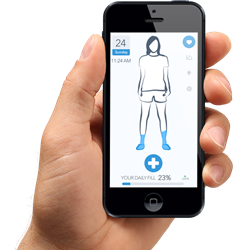 Simple to Use and Does the Job - Reminding to Drink More Water
(PRWEB) May 27, 2014
WaterMinder is an app that helps users to ensure they are getting enough of the most important thing that a body needs: water. Details about a person's body weight are put into the app and any personal goals that the user might have. After that, WaterMinder becomes a water-based personal assistant as it reminds the user to drink water at set intervals throughout the day. Consumption levels are monitored in a nicely designed visual graphic which means the user will know instantly how well hydrated they are.
It is beneficial to all users but there are some people who find it particularly useful. This includes people with kidney problems, pregnant women, breastfeeding moms, and athletes. In fact, it benefits everyone who finds it a struggle to drink enough water each day, something which is crucially important. Water helps to keep the body's insides healthy, it helps people to lose weight, and it helps to keep skin healthy. Water also helps to prevent infection while maintaining general good health and improving concentration.
The WaterMinder app is simple to use and is easily customized. WaterMinder version 1.4 comes with the following features:

Support for 13 languages including eight new ones. The supported languages are English, French, Korean, Polish, Traditional Chinese, German, Spanish, Italian, Japanese, Portuguese, Portuguese Brazil, Russian, Turkish.
Clean visual view of the current water fill
Pre-defined cups for quick tracking
Custom cups
Unlimited custom reminders which can be turned off when goals are reached
History and graphs so progress can be monitored
Localized drinking units (oz, UK oz and ML)
Free guide to drinking water
NEW Edit Icon Badge - ability to show remaining goal or current water intake
NEW Ability to switch between date formats and 24-hour time
NEW Edit profile page
NEW Ability to change character between female or male
NEW Localizations: German, Spanish, Italian, Japanese, Portuguese (Brazil), Portuguese, Russian, Turkish
The WaterMinder app is available on the iTunes store.