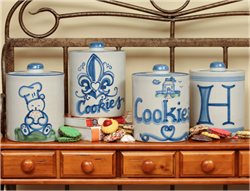 Hadley collectors know that to sneak a homemade treat is one of life's many delights.
Louisville, KY (PRWEB) May 28, 2014
Hadley Pottery, an American classic featuring handmade pottery designs, is introducing the next generation stoneware cookie jar inspired by renowned artist Mary Alice Hadley. Hadley Pottery's four new designs showcase the company's trademark Hadley look, while adding a whimsical Fleur-de-lis and a brand new monogram design for a contemporary aesthetic. The new M.A. Hadley cookie jars are available at http://www.hadleypottery.com, as well as in the company's Factory Outlet Store in Louisville, KY, and at select retailers throughout the country.
Decorative cookie jars have become a staple in kitchens across the country where the ritual of baking, storing, and eating home-baked cookies continues from one generation to the next. According to a recent consumer survey by Hadley Pottery, more than over half of all customers (54%) have a cookie jar in their kitchen today. These jars are primarily used for display and for storing cookies when special guests come to visit.
"At Hadley Pottery, our original Cookie Jars and Canisters have been in use for many years by enthusiasts who know that a hand in the jar to sneak a homemade treat is one of life's many delights," says Andrew Bresler, one of the owners at Hadley Pottery. "With the introduction of four new designs, bakers and cookie lovers alike can create memories with these unique cookie jars and also experience the latest in new kitchen accessories available from Hadley."
Hand in the Cookie Jar of New Traditional and Contemporary Designs
One-hundred-percent made in the USA, Hadley Pottery cookie jars measure 7.25" tall on countertops and feature a stoneware cookie jar together with a domed lid. Two new charming and nostalgic designs appealing to the traditional Hadley consumer include: the Hadley House design and Teddy Bear in a bakers cap eating a fresh-baked cookie. Two contemporary designs for next generation collectors feature Fleur-de-lis and monogram designs. Each of the new designs is priced at $72.00.
The secret to soft cookies is storage. Stoneware cookie jars offer distinct advantages for keeping home-baked cookies fresh. M. A. Hadley's decorative cookie jars made of stoneware include a matching domed lid that allows for better accumulation and circulation of natural moisture in the jar. Because stoneware is slightly porous, it allows for the exchange of gases that enhance the flavors of baked goods, as well as the absorption and distribution of sugars.
A cookie jar in the kitchen serves a useful purpose not only for the decorative and sentimental value of serving and storing fresh-based cookies, but also for other items, such as: tea bags and sugar packets, dog "cookies", breakfast or granola bars, even cash and pocket change. For more information on Hadley Pottery, please visit http://www.hadleypottery.com.
###
About Hadley Pottery
Inspired by the designs of renowned artist Mary Alice Hadley, Hadley Pottery is an American classic, cherished by everyday users, enthusiasts, and collectors across the United Sates and around the world. Hadley stoneware plates, mugs, and bowls are used as everyday china. The company also Since Hadley Pottery's beginning in 1940, its founder's unique vision and style have been widely imitated. But the original spirit and creative energy of Mary Alice Hadley is still alive in the historic pottery on Story Avenue in Louisville. For more information, visit http://www.hadleypottery.com.