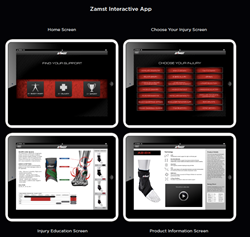 This solution ensures our retailers provide immediate product buying solutions, and allows us to build a vertical selling solution with information specific to Sport, Body Part or Injury." - Bryan Smeltzer, GM
Irvine, CA (PRWEB) June 24, 2014
ZAMST, a leader in high-performance sports prevention and protective equipment, announced today the creation of an industry leading "interactive digital merchandising" platform. Having been in development over the past 15 months, ZAMST has successfully launched the program with key retailers.
"When we first had our ideation meetings regarding the most pressing needs within our sports bracing/supports equipment category, we intuitively knew consumer education and self service merchandising were key components to achieving success with our retailers," said Bryan Smeltzer, GM, ZAMST Americas. "With extensive testing, development and creative innovation, we have now deployed an industry leading interactive digital platform, driven through in-store iPad's with our interactive Zamst App. This solution ensures our retailers provide immediate product buying solutions, and allows us to build a vertical selling solution with information specific to Sport, Body Part or Injury."
The ZAMST merchandising platform was first launched in January, and is now deployed on a national level, and has proven a success, as it enhances inventory turns, allows for consumer self service and provides support to in-store associates or managers.
"We strive as a leader in the Sports Bracing/Support equipment category to provide solutions to both our consumers and retailers. By developing, and implementing the ZAMST Interactive Digital Platform, we have achieved both goals," says Laura Cleveland, Marketing Manager ZAMST Americas. "We will continue to evolve, and further expand our leadership role in providing interactive solutions for our retail partners, as digital is the future."
Most recently ZAMST has moved their App to the mobile platform, by creating the iPhone version to complement the current iPad launch.
ZAMST is a leading brand of sports support and protective equipment, used by professionals worldwide for over 20 years. ZAMST offers a full line of premium injury prevention and protection sports bracing and supports products. ZAMST is a division of the NIPPON SIGMAX Co., Ltd (Tokyo, JAPAN) with privately-held, wholly owned subsidiary corporations, SIGMAX AMERICA (Newport Beach, CALIFORNIA), SIGMAX EUROPE (Annecy, FRANCE), and SIGMAX CHINA (Shanghai, PRC). For more information, call toll free 877-ZAMST-US (877-926-7887) or visit http://www.zamst.us.