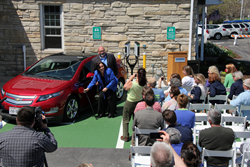 'Congratulations for leading the way,' said Stephanie Klett, Secretary of the Wisconsin Department of Tourism, 'and thank you for doing something that no destination marketing organization in the United States has done.'
Sturgeon Bay, WI (PRWEB) May 21, 2014
As the busy summer travel season gets underway, the Door County Visitor Bureau (DCVB) today unveiled the first electric vehicle charging stations available to the public in Door County at the Door County Welcome Center, located at 1015 Green Bay Road in Sturgeon Bay.
The grand opening event kicks off a new effort the DCVB is spearheading to build a network of electric vehicle charging stations throughout Door County to help attract visitors who embrace ecotourism and the electric vehicle movement.
"Congratulations for leading the way," said Stephanie Klett, Secretary of the Wisconsin Department of Tourism during comments she made during the ceremony, "and thank you for doing something that no destination marketing organization in the United States has done."
The ceremony was highlighted by the first official plug-in and charging of an electric vehicle, a Chevy Volt, by Secretary Klett and Jack Moneypenny, President/CEO of the Door County Visitor Bureau.
"There are times when we, as tourism catalysts, are called upon to be leaders and visionaries and develop new and exciting opportunities in tourism development," said Moneypenny during his remarks at the ceremony. "Today is one of those times," he said.
"We are very excited to spearhead this initiative," Moneypenny continued, "and make Door County a leader, not a follower, in this technology."
The Door County Welcome Center has 2 complimentary charging stations available to electric vehicle owners 24 hours a day. The charging stations are located on the east side of the Welcome Center and are well marked.
Moneypenny also announced that 3 additional charging stations will be installed in the county. The Bay Breeze Resort and the High Point Inn, both in Ephraim, and the Village of Egg Harbor have all agreed to install charging stations in the coming months. Efforts by the DCVB to recruit more local businesses and communities to install charging stations will be ongoing.
An electric charging station map will be available later this year, and a special page on DoorCounty.com is available now that lists where electric vehicle charging stations can be found in Door County. The map and site will be updated regularly as new public charging stations become available.
The ecotourism focus is nothing new to Door County. Currently, 46 businesses, parks and attractions in the county are Travel Green Wisconsin certified. This designation is granted by the Wisconsin Department of Tourism following an application process that requires applicants to meet specific sustainable green business practices in order to be certified.
Following the ceremony, the first electric car off the street, a Tesla Model S, pulled in for a charge and DCVB officials were thrilled that the charging stations were already being used.
The Door County Visitor Bureau is the official tourism marketing organization for Door County, whose mission it is to foster long-term economic growth and stability in concordance with sustainable tourism practices.