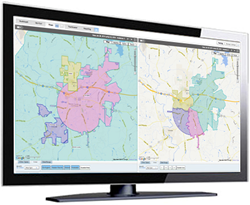 Because there have traditionally been so few options for Interjurisdictional Data Sharing, we realized that agencies needed training to understand how to benefit from sharing data with neighboring agencies. - William Kilmer, CEO
Salt Lake City, Utah (PRWEB) May 22, 2014
PublicEngines, a provider of cloud-based solutions that facilitate crime analysis, supply actionable intelligence and increase community engagement for law enforcement, schools, and governments today announced the availability of a new, free Webinar on Interjurisdictional Data Sharing to be held on May 28th, 2014. The Webinar is due to the high demand for information and training on Interjurisdictional data sharing after the release of its IJDS module for CommandCentral Analytics.
The Webinar will cover key topics such as threading data from multiple agencies, how to visualize and analyze criminal activity across agency boundaries, how to share crime intelligence, creating information hubs for special investigations, and even holding cross agency intelligence meetings.
The recent launch of the Interjurisdictional Data Sharing Module for PublicEngines' CommandCentral Analytics solution allows agencies to see the big picture of crime data across jurisdictional boundaries to find broader crime trends, benchmark and compare crime data by area, crime types, and date ranges, track the impact of agency initiatives on crime displacement, and spot criminal activity that uses jurisdictional limitations to their advantage. Agencies can view their data on a map or through a myriad of data visualizations for specific crimes, compare data across agencies and beats, and drill down to see the underlying information, including narrative fields from adjacent agencies.
"Because there have traditionally been so few options for Interjurisdictional Data Sharing, we realized that agencies understood the concept, but had never actually been able to benefit from sharing data with neighboring agencies," said William Kilmer, CEO of PublicEngines. So we decided that we needed to offer training to help agencies plan for how to best take advantage of this unique capability."
The Webinar will be held on May 28th from 1:00 -2:00 PM EDT as is open on a first come, first serve basis. Interested parties may sign up at http://www2.publicengines.com/ijds-webinar-pr.
PublicEngines also offers a monthly training series entitled Best Practices for Better Crime Analysis. Topics for the Webinar series will include general instruction on data cleansing, creating key reports and supporting visualizations, and how to set up reports for the reporting crime data to FBI's Uniform Crime Reporting program. Those interested in participating in the monthly webinar series may sign up at: http://www2.publicengines.com/2014CrimeAnalysisTraining.
About PublicEngines:
PublicEngines develops easy-to-use, cloud-based software that helps law enforcement, government, defense, and other organizations gather, analyze, and share intelligence to improve public safety. Used by more than 2,000 organizations worldwide, our market-leading solutions are accessible wherever you are, and are easy-to-deploy with minimal training and no additional IT burden or expense. For more information visit http://www.publicengines.com.