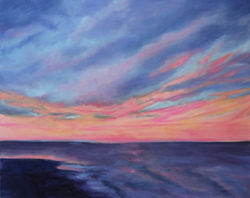 Cleveland Heights, OH (PRWEB) May 23, 2014
Cleveland-area artists are featured in Cain Park's first art gallery exhibit of the 2014 summer season: Dian Disantis, Wally Kaplan and Larry Kasperek. The exhibit runs June 12-July 13 with an opening reception slated for Friday, June 13 from 6 to 8 pm. The gallery is open one hour before all events except Kids Matinees and during the hours of the Cain Park Arts Festival.
The depiction of the natural environment is a recurrent theme in the paintings of Dian Disantis. She is particularly drawn to myopic investigations of flora and fauna and from this approach, she manipulates and invents her own abstracted vision of the subject matter. The works presented at Cain Park were derived from photographs she took of tar marks used to fill cracks created on heavily traveled roadways and by tire marks made on snowy or ice-encrusted surfaces. A Cleveland Institute of Art graduate, Disantis has exhibited at MOCA, the Loren Naji Studio Gallery, the Butler Institute of American Art and the Artists Archives of the Western Reserve.
Man's relationship to his environment and his love of nature has become increasingly important to Wally Kaplan and is reflected in her work. In her travels to Africa and the Galapagos Islands, she found a special kind of serenity and dignity in the vistas, people and animals, which have found their way on to her canvases. Kaplan graduated from Ohio State University and her work has been shown in many juried and solo exhibits including Bank One, University Hospitals, Valley Art Center, CityMusic Cleveland, and St. Paul's South Wing Gallery.
Larry Kasperek works in several photography mediums in addition to the standard 35mm digital and medium format film cameras. Pinhole photography addresses his interest in vintage work and harkens back to the joy of photography that developed with each photo in his dark room. In Reconstruction photography, he takes a series of photos in a logical pattern and re-assembles the images digitally. He enjoys iPhoneography because of the spontaneity it provides. With a photojournalism degree from the University of Missouri School of Journalism, Kasperek launched a 25-year career in newspapers in New Jersey, Mississippi, Michigan, Southern California, and Alabama. He is currently co-owner of BayLight Studio in Bay Village, Ohio. Kasperek's work has been seen at the Cain Park Arts Festival, the Artists Archive of the Western Reserve, the Doubting Thomas Gallery in Tremont, Boston Mills Arts Festival, and BayArts.
Cain Park's Audrey and Harvey Feinberg Art Gallery was named after two local champions of visual arts, who were instrumental in the creation of the Cain Park Arts Festival, a juried fine arts and fine crafts show that continues to be part of the Cain Park season to this day.
Cain Park 2014 season sponsors include Cuyahoga Arts & Culture, Ohio Arts Council, Severance Town Center, Intercontinental Hotels – Cleveland, and Motorcars Honda/Toyota/Scion.
Cain Park, a municipally owned and operated summer arts park and one of the nation's oldest landmark outdoor theatres entering its 76th season, is produced by the City of Cleveland Heights and is located on Superior Road between Lee and South Taylor roads.