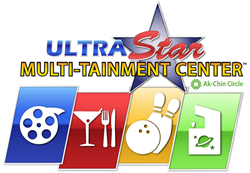 UltraStar Cinemas and the Ak-Chin Community are thrilled to have Booboo back to our property for the opening weekend of X-Men: Days of Future Past
Phoenix, AZ (PRWEB) May 22, 2014
The Ak-Chin Indian Community and the UltraStar
Multi-tainment Center at Ak-Chin Circle welcome back Booboo Stewart on Saturday, May 24th, opening weekend of the latest film in the X-Men series, "X-Men: Days of Future Past".
The actor, best known for his role as "Seth Clearwater" in the Twilight Saga, hits the big screen in his latest film, "X-Men: Days of Future Past" as "Warpath", the first Native American Super Hero. The highly anticipated movie opens in theaters May 23rd. Booboo returns to the Valley to greet fans in two meet and greet sessions on Saturday, May 24th.
Fans also have an opportunity to enter a contest to watch the newest X-Men movie that evening with Booboo himself, in UltraStar's Luxury Star Class auditorium by visiting http://www.ultrastarakchin.com. Winners will randomly be selected on May 22nd and announced on the UltraStar Multi-tainment Center's Facebook page.
Adam Saks, vice president of operations at UltraStar said, "UltraStar Cinemas and the Ak-Chin Community are thrilled to have Booboo back to our property for the opening weekend of X-Men: Days of Future Past to kick off this summer's blockbuster season."
Details:
Date: Saturday, May 24, 2014
Time: 1pm-2pm Public Meet and Greet
4:30-5:30 Public Session
7:30pm Contest winners join Booboo Stewart for screening of X-Men Movie
Where: UltraStar Multi-tainment Center at Ak-Chin Circle
16000 Maricopa Road
Maricopa, AZ 85139
The UltraStar Multi-tainment Center at Ak-Chin Circle is nearly 170,000-square-feet offering nine exciting activity venues under one roof. Recognized as the most technologically advanced and luxurious entertainment center in the entire Southwest, the complex features:

UltraStar Cinemas, a 12-screen state-of-the-art Pure Digital Cinema® with 3D capabilities, Luxury Star Class Auditoriums and D-BOX motion seats
Ten Pins Down, the most technologically advanced 24-lane bowling center in the state
347 Grill, a gourmet/casual restaurant
Luxe Lounge, a sports themed bar for guests 21 and older
Urban Arena Laser Tag, a two-story laser tag battleground
Play 'n Win Game Center, a redemption arcade for all ages
J Bar, a sophisticated escape from the normal movie fare
Cones Café, a gourmet ice cream and coffee café
Ak-Chin Amphitheater, a great venue to enjoy an outdoor event or Movies Under the Stars
For more information, visit: http://www.UltraStarAkChin.com
Booboo Stewart is available for media on a limited schedule; contact Christine Holtz, Phoenix Marketing Associates, CHoltz(at)PhoenixMarketingAssociates(dot)com
About Ak-Chin Indian Community:
The Ak-Chin Indian Community is nestled into the Santa Cruz Valley of Southern Arizona. The Community lies 58 miles south of Phoenix in the northwestern part of Pinal County. Ak-Chin is an O'odham word translated to mean "mouth of the wash" or "place where the wash loses itself in the sand or ground." Ak-Chin has an enrollment of more than 947 tribal members and a land base of just over 22,000 acres. For more information on the Ak-Chin Indian Community, visit http://www.ak-chin.nsn.us.
About UltraStar Multi-tainment Center at Ak-Chin Circle:
The UltraStar Multi-tainment Center at Ak-Chin Circle, an enterprise of the Ak-Chin Community, is operated by California-based UltraStar Cinemas. UltraStar Cinemas is recognized for pioneering the digital age of cinema. They are the first theater group in the world to be fully equipped with Pure Digital Cinema® powered by DLP Cinema® technology in all of their locations. The UltraStar Multi-tainment Center at Ak-Chin Circle features "One stop, non-stop entertainment." Guests experience adventure, competition, entertainment and relaxation all conveniently located under one roof. The Multi-tainment Center features state-of-the-art digital theaters, bowling, dining, sports lounge, live entertainment, laser tag and arcade gaming as well as corporate and private event facilities. It is located at 16000 Maricopa Rd., Maricopa, AZ. http://www.ultrastarakchin.com
XXX
Media contact:
Christine Holtz
Phoenix Marketing Associates
602-282-0202