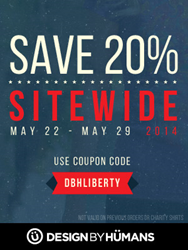 Use coupon code DBHLIBERTY for 20% OFF sitewide
Chico, CA (PRWEB) May 22, 2014
Design By Humans (DBH) offers customers a massive 20% OFF sitewide in their Memorial Day sale this year. From Thursday, May 22nd -Thursday, May 29th, customers will receive 20% off all items sitewide, including tees, phone cases and art prints. The sale will not apply to previous purchases or charity t shirts. Customers can also take advantage of shipping deals - any t-shirt orders over $75 USD receive Free Domestic Shipping and t-shirt orders over $125 USD receive $10 International shipping.
Wide Selection of Products
Design By Humans offers their customers and artists a large selection of top notch products. As of now, customers can illustrate their lifestyle with amazing artwork on T-Shirts, Phone Cases and Glicee Art Prints. In the past few months, Design By Humans has also added new sizes and colors to their already outstanding product line. Men's t-shirts at DBH are now available in new colors Cardinal, Banana Cream, and Royal Blue and in new 3XL sizes (in select colors). Most DBH products can be customized with different colored backgrounds, making each person's shopping experience a unique one. With over 15,000 designs available and a wide selection of colors, each customer has an almost endless selection of one-of-a-kind products.
Committed To Quality
Design By Humans is committed to high-quality, eco-friendly products. All DBH tees are printed on high-quality cotton blanks that are made in the USA. These cool graphic t-shirts are created using cutting-edge DTG technology and water based inks that produce large, vibrant, and fade resistant prints.
About Design By Humans
Design By Humans was started in 2007 with the simple vision of bringing artists from around the globe together to give them a platform to produce wearable art that tells a story, strengthens humanity and inspires life through creativity and design. The DBH Collective initiative is inspiring amazing artists and giving them a unique foundation to share artwork through a personal online storefront.
If you'd like more information about this topic, please call +855 333 9836 x 302 or email press(at)designbyhumans(dot)com.