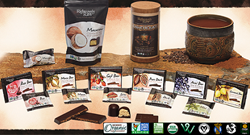 Vista, CA (PRWEB) May 23, 2014
This month Earth Source Organics (ESO) has been working to get settled into their new facility that more than triples their production space and capacity. Their stellar showing at this year's Natural Products Expo West drove growth to the point where their old facility no longer provided sufficient space for production to match demand. Now, ESO has 11,100 square feet of production capability that can rise to the challenge.
At Natural Products Expo West, the leading trade show for the natural, organic, and healthy products industry, ESO debuted their new gourmet packaging for their line of Righteously Raw Chocolates, along with some additions to their bite-sized and individually wrapped offerings. With the introduction of their individual serving chocolate dipped macaroons, Maca and Rose bites and the Pure Dark Bar, ESO experienced a dramatic increase in sales that quickly outstripped their supply, paving the way for success in their newly expanded facility.
In addition to increasing their facility size, ESO has also introduced a new Sales Representative, Omar Arbelaez, to help continue their forward momentum and to bring their products to more stores, markets, and regions. Omar brings almost a decade of sales and client management expertise to the ESO team and has set his sights to doubling 2013 sales. With the addition of two new accounts on average per day, he is well within reach of obtaining this goal for 2014. The new regional openings of Whole Foods, a long time Righteously Raw customer, in Florida also promise to make this year and next especially exciting for the Righteously Raw chocolate product line. With more and more stores carrying Righteously Raw Chocolates each day, Earth Source Organics continues to spread their healthy living message and bring their delicious, gourmet, high vibrational treats into households all across the United States.
More About Righteously Raw Chocolates:
Righteously Raw is the gourmet chocolate brand of the certified organic food manufacturing company Earth Source Organics. Based in Southern California, this company is on a mission to provide organic and delicious foods to its customers to help them lead happy, healthy lives. For more information and to find Righteously Raw Chocolates near you, please visit http://www.righteouslyrawchocolate.com.
To learn more about Earth Source Organics' move and expansion, please contact Audrey Darrow at (760) 734-1867 or info(at)earthsourceorganics(dot)com