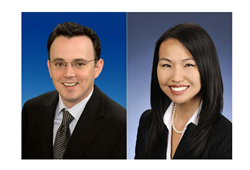 It feels good to give back to the community, and to provide legal advice to those who otherwise would not have access to that information
(PRWEB) May 22, 2014
Murchison & Cumming, LLP, Partner Michael D. McEvoy, Jr. and Senior Associate Mary C. Trinh were proud to participate in the 11th Annual Law Day held on May 10, 2014, at the Arcadia Library. The event was chaired by former Arcadia Mayor Gary Kovacic and sponsored by the Arcadia Chinese American Association.
Mr. McEvoy and Ms. Trinh were part of a panel of over forty attorney volunteers who provided free one-on-one legal consultations to local San Gabriel residents on a wide range of legal matters, including landlord-tenant issues, insurance problems, workers' compensation, business disputes, real estate litigation, consumer rights, personal injury and medical malpractice.
"Unfortunately, most of the general public does not know what legal options are available to them when they encounter problems. With the struggling economy, many people are limited in their ability to seek legal advice to deal with these problems," said Mr. McEvoy. "It feels good to give back to the community, and to provide legal advice to those who otherwise would not have access to that information," added Ms. Trinh.
Murchison & Cumming, LLP attorneys have participated in Law Day since 2009 and look forward to volunteering their services again to the event in the future. Mr. McEvoy specializes in the defense and management of complex wildland fire litigation, the defense of utility companies and defending property owners, managers, and individuals in subrogation, habitability and premises liability cases. Ms. Trinh specializes in general liability matters, with a focus on the defense of product liability, premises liability and medical malpractice cases.
About Murchison & Cumming, LLP
With a firm history dating to 1930, Murchison & Cumming, LLP is a premier civil litigation firm with five offices in California and Las Vegas, whose attorneys specialize in the defense of domestic and international businesses, insurers and individuals, at trial and on appeal. The Firm's attorneys also handle employment matters and business transactions. For additional information, please visit our website at http://www.murchisonlaw.com.