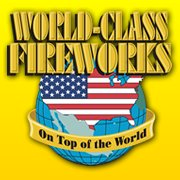 The Folds of Honor Foundation represent two issues that our family places high priority on—Family & Education
Pittsburg, KS (PRWEB) May 23, 2014
World-Class Fireworks, also known as Jake's Fireworks, announces their 2014 Fourth of July partnership with the Folds of Honor Foundation (FOHF). For the Fourth of July season, World-Class Fireworks has created a 200-gram, patriotic firework called the "Folds of Honor Firework". The limited edition firework will be sold throughout all Jake's Fireworks retail locations across the US. The Folds of Honor Foundation provides educational scholarships to the children and spouses of military servicemen and women killed or disabled while serving our great nation. As of January 2012, more than one million dependents have been affected by the wars in Iraq and Afghanistan. Of these, 85 percent do not qualify for federal scholarship assistance.
"The Folds of Honor Foundation represent two issues that our family places high priority on—Family & Education," says Jake Marietta, CEO, World-Class Fireworks. "My brother John and I were both educators. We want to help the deserving families of our fallen servicemen and women, who have given the ultimate sacrifice for us and our families, achieve their education."
"We highly value our partnership with World-Class Fireworks," said Major Dan Rooney, CEO of the Folds of Honor Foundation. "By purchasing the Folds of Honor firework this Fourth of July, Americans can simultaneously celebrate our country's Independence Day, while assisting the families of our military men and women that make our freedom possible," Major Rooney mentions.
"The Folds of Honor Foundation's assistance to help us send our grandson Dakota to school has made a world of difference for our family," Terra Peterson said. Dakota Peterson, son of Anthony Del Mar Peterson, Company B, 1st Battalion of 279th Infantry who was killed in Afghanistan on August 3, 2011 was the first recipient of a Folds of Honor scholarship from the proceeds of the World Class/Jake's Fireworks partnership in 2013.
For locations where the World Class/Jake's Firework Folds of Honor Foundation fireworks can be purchased, please go to http://www.jakesfireworks.com.
###
About Jake's Fireworks:
Jake's Fireworks world headquarters in Pittsburg, Kansas, where Grandma Helen Marietta started the company 75 years ago with a fireworks stand on the side of her country store. The 500,000 square foot, state-of-the-art facility allows Jake's to carry more inventories and have a central distribution point to serve its many outlets across the Midwest. One of Jake's proprietary fireworks is Excalibur, the #1 selling artillery shell firework of all time. 2014 product demonstration videos can be viewed on jakesfireworks.com.
For interviews, contact:
Karl Hirsh, karl(at)noblemouse(dot)com
714-348-0145