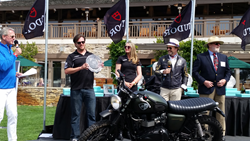 Gardena, California (PRWEB) May 22, 2014
British Customs attended the Sixth Annual The Quail Motorcycle Gathering in Carmel, CA this past weekend and rode away from this prestigious event with two awards.
Prior to the event, the BC founders joined representatives from Triumph Motorcycles, Motorcycle USA, and the makers of the film Why We Ride on a group ride from BC's Southern California headquarters to the coast to Carmel Valley, making several stops at important motorcycling landmarks along the way.
For Friday afternoon's Quail Ride, British Customs outfitted several riders with BC bikes. Bryan H. Carroll, producer and director of the hit motorcycle documentary Why We Ride, piloted the British Customs Dirt Bike on the trek. The 100-mile journey through the Monterey Peninsula, including a quick jaunt around the world-famous Mazda Raceway Laguna Seca track, resulted in the BC Dirt Bike being selected as "Most Unique" on the ride.
For the sixth year in a row, hundreds of motorcycle enthusiasts from across the country headed to The Quail Motorcycle Gathering in order to celebrate the past, present and future of motorcycling. Featuring everything from vintage restorations to highly customized machines, the event welcomes bikes of all kinds to be submitted for awards consideration.
British Customs had several bikes on display on the concours, and at the end of the judging period the BC Dirt Bike once again proved a head-turning success. The Dirt Bike was selected for the "Industry Award" and BC founder Jason Panther took the stage to accept the award.
The Dirt Bike, like all BC builds, exemplifies the endless possibilities when it comes to customizing one's Triumph motorcycle. These builds embody the spirit and the freedom of motorcycling, but at the same time are intended to be enjoyed on the road rather than in a showroom. All British Customs parts are bolt-on and can be installed with basic tools and minimal experience, helping riders achieve their vision for what their bike could be.
Learn more about British Customs and the parts they produce by visiting British-Customs.com. Follow us on Facebook, Instagram and Twitter for more product updates and special promotions.