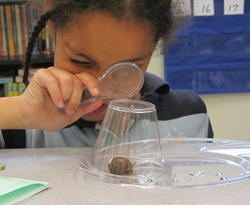 The two Imagine campuses are the only two Florida schools receiving the 2014 award.
Arlington, VA (PRWEB) May 22, 2014
Imagine Schools is pleased to announce that The Character Education Partnership (CEP), a national advocate and leader for the character education movement, named Imagine Town Center and Imagine Weston as 2014 National Schools of Character (NSOC). The NSOC program recognizes both campuses as schools that have demonstrated their implementation of character development to drive a positive impact on academics, student behavior, and school climate.
For Imagine Schools, this designation is especially meaningful as it follows the 2013 announcement that Imagine Schools was named a National District of Character by CEP. Imagine Schools was one of only three school districts in the nation to receive this designation. Imagine Town Center and Imagine Weston built upon this foundation to earn the NSOC distinction, demonstrating the continuing emphasis Imagine Schools places on positive character development and the impact it has on academic outcomes.
The National Schools of Character program is not a competition—but rather an opportunity to go through a rigorous process of feedback and coaching, as well as recognition for growth and excellence in the area of character development through CEP's 11 Principles of Effective Character Education framework. Both campuses will hold their designations for five years. CEP will showcase these two Imagine Schools campuses in an annual publication and on its website. Each campus has also earned the right to use the NSOC name and logo.
Since its inception, CEP has awarded over 250 schools with the distinction of a National School of Character. In 2014, along with Imagine Town Center and Imagine Weston, 39 additional schools and three districts were named across the United States. The two Imagine campuses are the only two Florida schools receiving the 2014 award, and are two of only three charter schools nationally to be recognized.
CEP will honor Imagine Town Center and Imagine Weston at the 20th National Forum on Character Education, to be held the weekend of October 30, 2014 in Washington, DC. Visit http://www.character.org to learn more about the National Forum, the NSOC program and the 2014 national finalists.
Arne Duncan, U.S. Secretary of Education, created a video to help celebrate this year's honorees.
Imagine Town Center serves 920 K-8 students, is located at 775 Town Center Boulevard, Palm Coast, FL, and has been working with CEP for four years. Imagine Weston serves 944 K-7 students, is located at 2500 Glades Circle, Weston, FL, and has been working with CEP for six years.
Imagine Schools is a national network of 69 public charter schools educating more than 36,000 students in 11 states and the District of Columbia. Imagine Schools partners with parents and guardians to educate their children, providing high quality schools that prepare students for lives of leadership, accomplishment, and exemplary character. Learn more at ImagineSchools.com.