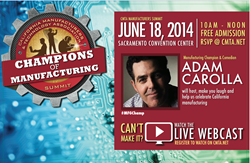 Sacramento, CA (PRWEB) May 22, 2014
Talented funnyman and commentator Adam Carolla will join the California Manufacturers & Technology Association on June 18 from 10 a.m. to noon in the Sacramento Convention Center to entertain the crowd, recognize seven of California's Manufacturing Champion companies, and discuss with state leaders how the state can grow more manufacturing.
The seven companies are being recognized for their commitment to California and for the tremendous opportunities they provide their workers and communities. Those companies are:
Sierra Nevada Brewing from Chico
California Steel Industries from Fontana
Vista Metals from Fontana
Parallax from Rocklin
Fathom 3D from Oakland
Keystone Engineering from Long Beach
California Custom Fruits & Flavors from Irwindale
Carolla and the Champions of Manufacturing Summit will speak to a broad range of workers, employers, policy leaders, lawmakers, legislative staff, students, and the media. It's a California event you don't want to miss if you cover manufacturing, education, workforce or the economy.
You can register either to attend or watch the live online broadcast at CMTA.net.
You can see and hear Carolla's invitation and CMTA's announcement of the Champions here.