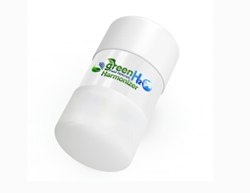 We at JustloveSuccess.com desire for our customers what we desire for ourselves; wealth, good health, a positive mindset and lifestyle that brings forth true happiness.
Detroit, MI (PRWEB) May 22, 2014
The Greenfield Naturals Water Structuring, Energizing Harmonizer produces healthy, energized, structured water using the natural methods of nature. The unit itself is a pressurized matrix of all natural elements and minerals, which impart energy to the water essentially bringing water back to its original vibrant life.
Unlike most water structuring devices and purifiers, which range from $399 - $2400 and up, for only $240 JustloveSuccess.com offers the Harmonizer, which produces healthy water for an entire household. The Harmonizer provides a permanent low-cost way to provide healthy, energized structured water for your entire home. This revolutionary product is easy to install and requires no interruption to existing water lines, requires no filters, replaceable parts or electricity.
Water, all by itself, is the simplest natural treatment to a vast number of health issues. Good clean structured and energized water will effectively treat Asthma, Allergies, Obesity, High Blood Pressure, Cholesterol, Heart Disease, Stroke, Diabetes, Hypertension, Infection, Depression, Chronic Fatigue Syndrome, Sleep Disorders, Lack of Energy, Addiction, Osteoporosis, Leukemia, Lymphoma, Attention Deficit Disorder, Hot Flashes, Gout, Kidney Stones and more.
Inventor Gary Greenfield says, "Light is a manifestation of love which is best exemplified by a mother's care for her child. She feeds, cleans and protects her child. Perhaps that is why nature is called, "Mother Nature". The rocks, minerals, and elements found in abundance in natural settings all work together to clean, feed and protect. God is Good!" All electromagnetic fields (EMF) are basically light and have three functions: To clean, feed and protect.
Nikola Tesla & Dr. Royal Rife contributed greatly to the application of variable frequency electromagnetic fields (EMF) for the treatment of diseases and the maintenance of good health: Nikola Tesla through the harnessing and practical use of electromagnetic fields and Dr. Royal Rife for his extensive research and successful application of selected frequencies for effectively treating various diseases.
Properly structured and energized water as produced by Greenfield Natural's Water Harmonizer provides these health frequencies to your entire household as well as to all your plants and animals. Installing a low-cost permanent Water Harmonizer will assure an abundant supply of healthy energized structured water to your home for many years to come.
Now JustloveSuccess.com offers the Greenfield Naturals Water Structuring, Energizing Harmonizer below list price for a limited time.