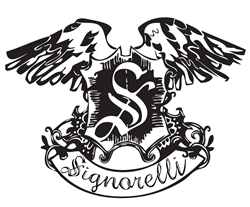 "We selected Ms. Garrett because we were impressed not only by how she has grown Signorelli, but also by her commitment to give back through charity." - Matt Toledo, Business Journal Publisher
Los Angeles, Calif. (PRWEB) May 22, 2014
Signorelli (http://www.shopsignorelli.com), a premier apparel company that transforms art into fashion with a purpose, today announced that founder and CEO Meredith Garrett has been named as the "2014 Women Making a Difference CEO of the Year."
The Los Angeles Business Journal held the 2014 Women Making a Difference Symposium & Awards event on Thursday, May 8th, 2014. The celebration honored Los Angeles based women who lead by example, successfully blending effective business vision with a passionate commitment to positively "making a difference," both in the world of business and in the communities they serve.
"For the past 21 years, the Women Making a Difference Awards has honored the outstanding achievements of women in business throughout Los Angeles County and we're proud to be supporters of this great tradition," said Business Journal Publisher Matt Toledo. "We selected Ms. Garrett because we were impressed not only by how she has grown Signorelli, but also by her commitment to give back through charity. Her achievements are a true representation of the dynamic strides today's women in business are making for our community."
This year, judges had the unenviable task of narrowing the field from 248 nominees to just six honorees. Categories presented included Business Owner/CEO of the Year, Executive of the Year, Rising Star of the Year, Volunteer of the Year, Philanthropist of the Year, and Corporate Advocate of the Year.
"I'm deeply honored and humbled to receive this award because it not only recognizes the hard work of the entire Signorelli team, but also the significant role that charity should have in business today," said Meredith Garrett, Founder and CEO of Signorelli. "The more we grow, the more we give back is the motto we will continue to hold ourselves to, so that we can carry on our mission to create fashion with a purpose."
About Signorelli
Signorelli is a premier apparel company based in Los Angeles. Built on a design strategy to transform art into fashion with a purpose, Signorelli has captured the attention of both the fashion and socially conscious consumer. Today every Signorelli t-shirt sold supports one of eight causes through the Signorelli Movement Foundation, which has raised nearly a million dollars to date.
Since first launching as a t-shirt line in 2005, Signorelli has grown to umbrella several successful brands for women, girls and juniors that can be found at top department stores and boutiques including Saks 5th Avenue, Neiman Marcus, Nordstrom, Bloomingdales, Kitson, and Fred Segal. The company also has several branding and licensing partnerships including Sony Pictures, Paramount Pictures, Marvel Comics, Paramount Pictures, Viacom and Mattel.
For more information, visit us at http://www.shopsignorelli.com or follow us on Instagram to see our work in action.