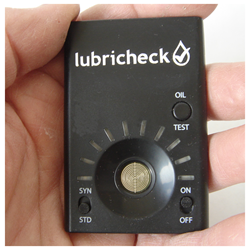 The day it arrived, I checked the oil on 23 engines. I am able to save a lot of money by verifying oil quality before doing a routine oil change.
Shafer, MN (PRWEB) May 28, 2014
One of a growing number of Lubricheck 'believers' is Matthew Peterson of Rexburg, Idaho. Matt recently moved home to take over the family farm. As he wrote in a recent letter to Farm Show magazine, "After seeing the story on the Lubricheck oil tester .. I ordered one. The day it arrived, I checked the oil on 23 engines. Some of the engines hadn't been run in years. I got good readings on most of them. I had only 3 that showed a need to change oil, and 2 or 3 that were close to needing oil changed. I saved a lot of money on oil immediately."
Not only will the Lubricheck determine the condition of the oil by measuring acidity, (related to the TBN number) but it will also react to contamination from other sources. Matt continues in his letter, "I saved even more money on a Case 4494. The Lubricheck tester indicated problems only 100 hours after an oil change. It gave me high readings and blinking lights indicating metal in the oil. When I drained the oil and checked the oil pan, I found filings. I tore it apart this winter and found broken rings and worn bearings."
Matt's experience has proven to be fairly typical. In Washington State a trucking fleet owner was surprised to find that 2 of his well maintained trucks gave a rapid flashing #10 reading on the Lubricheck, indicating a potentially serious engine problem. Upon further testing, antifreeze was found in the oil pans of both engines. Thanks to the Lubricheck, he caught these problems early, before serious damage to the bearings.
At less than $50, the Lubricheck offers an inexpensive, simple and instantaneous test for all gas and diesel engines. A few drops of engine oil from the end of the dip stick, placed on the Lubricheck's peanut-sized sensor grid, will result in a 1-10 rating of your oil. A green LED #1-7 means oil is OK, amber LED #8 or 9 means change soon, red LED #10 means change now. If a #10 rating comes sooner than expected, the engine should be checked for problems before serious damage occurs. (see demo video here)
Matt finished his letter by stating, "The biggest advantage for me is that I have a number of tractors that get a small amount of usage every year. Recommendations are to change every 3 months or at least once a year. I am able to save a lot of money by verifying oil quality before doing a routine oil change."
The Lubricheck has compared very well with oil test results from oil testing labs, and to $1000 plus hand-held oil testers, like those used by pit crews and other maintenance professionals. Lubricheck has been shipping over a year, carries a 1 year warranty, and is available on Amazon and http://www.lubricheck.com. Check this Youtube video for a more colorful explanation of the Lubricheck.