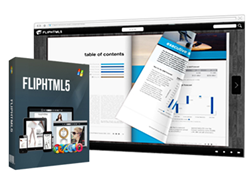 (PRWEB) May 23, 2014
FlipHTML5, a market leader in digital publishing software, is pleased to announce that the company has now introduced eCommerce solutions, digital catalog software, and tiers in addition to its personal packages, enabling online merchants to boost sales with digital flipping catalogs with a minimum of hassle.
The move was made in response to an increase in commercial FlipHTML5 users, who was looking for a catalog tool that could aid with online sales and increasing revenue. The move follows soon after the company's recent upgrade to its website and customer support, a part of FlipHTML's commitment to improving the user experience of the website, whether personally or for eCommerce.
FlipHTML5's digital catalog software enables users to create digital catalogs, books and storefronts that not only look good, but are also fluid. The animation effects between "pages" are created using a mixture of HTML5, jQuery and CSS3, and the effects are rendered perfectly across all devices, from iPads, iPhones and Androids through to laptops and desktop computers.
A further benefit for eCommerce users who choose FlipHTML5 is that catalogs using the software can be accessed almost instantaneously without waiting for images to download. Online merchants can create fully-realized, beautiful catalogs with skins, audio, video and shopping cart icons in one single, organic design. Their potential customers enjoy an easy, accessible interface, greatly increasing the chances of improving revenue.
FlipHTML5 is proud to offer innovative software filled with features that offer commercial users a simple way to create a fully responsive eShop that would have seemed impossible, even just a few years ago. With the latest site upgrade, FLipHTML5 has reinforced its commitment to providing users with a premier product and experience.
For more information, visit FlipHTML5's website: http://fliphtml5.com.
About FlipHTML5
FlipHTML5 Software Co., Ltd, which is headquartered in Hong Kong, is a global leading digital publishing software provider. The company provides its clients with high quality, user friendly and cost effective digital publishing software.