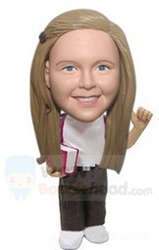 (PRWEB) May 22, 2014
Recently, Wowbobblehead.com, a reliable company of interesting figurines, has added new collections of kids' bobbleheads and sports bobbleheads to its product category. What's more, the company has launched a big promotion for these brand new bobbleheads. Each of them now comes with a discounted price, up to 30 percent off.
At the company's online store, customers don't need to spend a lot of money to get high quality bobbleheads. As a leader in the figurine industry, Wowbobblehead.com is always running in front of others. Many of its products are popular among the international consumers. Its one stop website is a good place for those who want to get cheap, funny items.
Now, Wowbobblehead.com is making every effort to offer more special items. In addition to kids' bobbleheads, it also offers many other hot items, including wedding bobbleheads, anniversary bobbleheads, sports bobbleheads, fully personalized bobbleheads and so forth. Almost all its customer-oriented products are warmly welcomed at home and abroad.
Lion, a customer from the United States, reviews, "I ordered several kids' bobbleheads for my son. He likes them very much. As one of the frequent callers, I can often enjoy special offers. There are a lot affordable, interesting items offered on your site; this is why I like shopping here. I'll certainly recommend your bobbleheads to others."
About Wowbobblehead.com
Wowbobblehead.com is one of the most popular suppliers of custom made bobbleheads. It is serving more than 2000 clients in the global market. Plenty of its interesting products sell well at home and abroad; they are highly appreciated by worldwide clients. The company is especially famous for its wedding bobbleheads, anniversary bobbleheads and sports bobbleheads.
For detailed information about its funny items, customers can visit: http://www.wowbobblehead.com/Custom-Bobbleheads-kids-bobbleheads_c42.html.