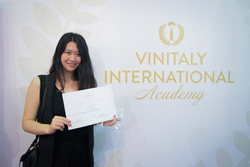 People are really enthusiastic to learn about Italian wines
Shanghai (PRWEB) May 22, 2014
Education was the trump card during the first edition of Vinitaly China Shanghai at Sial Wine World last week, with 10 educational sessions in three days: after only two months from Vinitaly China Chengdu, Vinitaly International Academy teamed up once again with seven local Italian wine importers in the name of education offering all attendees the unique opportunity to discover the characteristics and uniqueness of Italian wine.
This year's edition of Sial Wine World counted a record number of more than 100.000 sqm sold (+20% with respect to 2013), 2.400 exhibiting companies (+7%) and 45 thousand visitors (+9%). Italy was represented by Vinitaly with 85 sqm entirely dedicated to education believed by many to be the key element to penetrate the upcoming Chinese wine market.
"I think we are starting now and that the most important key of this market is communication, education, so Vinitaly is making this point very clear. To reach the Chinese customers we need to educate them, make them curious of what Italian wine is," explained Simone Semprini of VM Fine Italian Wines, one of the seven top wine importers present at the event. "It is an honour for me to be here to hold the Vinitaly masterclass 'Sangiovese: the king of Tuscany'. Sangiovese is, no matter what, the greatest grape variety in Italy. I think it has been a nice experience. We had the chance to communicate and educate the Chinese consumers and help them to understand a little more about our country."
Vaness Tang from East Meets West also shared the same belief in the great potential of education: "I was very pleased to be invited to Vinitaly to conduct the masterclass about two fine wineries, Planeta and Argiolas. It was a great experience with Vinitaly. As you all know Italy is both the most famous and important old wine region in the world. I do believe education will bring more benefits to all the fans that love Italian Wine as well as more tasting and more drinking. I do believe that Italian wine has a great future and great opportunity in China."
Sial Wine World also played host to the fourth stop of the prestigious Vinitaly International Academy. Lingzi He, an upcoming young Chinese wine expert, was chosen by VIA Director Ian D'Agata to act as a mediator bridging the cultural gap between Italy and China and adapting cutting edge wine knowledge to the local culture.
"I am extremely happy about the success had by the three Executive Wine Seminars run by Vinitaly International Academy in Shangai during the SIAL fair," says Ian D'Agata, Scientific Director of Vinitaly International Academy (VIA). "I believe these seminars, which are really much Masterclasses that broach Italian wine in much greater depth than usual, to be absolutely essential to broadcasting and divulging the quality fo Italian wines all over the world. In fact, taking Italian wine knowledge and teaching to a whole new level is one of the fundamental missions of VIA. And I am especially happy for, and proud of, Lingzi He, one of my young Chinese students of Italian wine who was at her first official VIA presentation, and she did a marvellous job. Currently finishing up her WSET studies, she is also on course with us to become a true Italian wine expert and hopefully one of VIA's faces in China of the future."
Each of the three Executive Wine Seminars had a full house with many attendees asking questions and showing a great interest in what was being said: "People are really enthusiastic to learn about Italian wines. They are curious and not afraid at all to try different wines made with different varieties and of different regions," explained Lingzi He. "By the end of the class, they are thrilled to discovered the white grape, Fiano, which none has tried before and they are seeking out now Sagratino di Montefalco from Arnaldo Caprai because they found it is surprisingly good and unknown to them. Moreover, it's revealing for them to discover that there are style variations even within a single appellation, for example in our last class, Brunello di Monteciano. Even if they can't remember all the place names and obscure towns, we have planted in their mind a certain sensibility and understanding about the diversity and subtlety of Italian wines. I am sure VIA classes have planted a seed that will sprout into connoisseurship in the future. Most importantly, many came to me and told me they can't wait to attend more VIA classes!"
Alberto Paoletti from 100ITA also expressed appreciation for initiatives like VIA: "We attended the classroom of Vinitaly International Academy because we believe in this kind of initiative, that groups wine producers and importers who in China can develop together a culture of Italian Wine. We think for the future of Italian Wine in China it would be important to have a continuous program aimed at training certain people so that they can teach Chinese what Italian Wine is." If all goes according to plan, this prospect might not be so remote.
"Actually this is just the tip of the iceberg," says Stevie Kim, Managing Director of Vinitaly International. "We are now laying the groundwork to prepare an intense 5 day program towards the end of the year with the aim to create Italian Wine Experts who can ultimately become our Italian Wine Ambassadors around the world. I have personally been scouting for potential candidates for the past 8 months."
About:
Veronafiere is the leading organizer of trade shows in Italy including Vinitaly (http://www.vinitaly.com), the largest wine event in the world. The 48th edition of Vinitaly counted some 155,000 visitors (+6%) in four days of event, of which 56.000 were international attendees representing 36% of the total. On 100.000 square meters, 4.000 exhibitors welcomed trade professionals, media and producers alike. The next instalment of the fair will take place on 22 – 25 March 2015. The premier event to Vinitaly, OperaWine (http://www.vinitalyinternational.com) "Finest Italian Wines: 100 Great Producers," will unite international wine professionals on March 21st 2015 in the heart of Verona, offering them the unique opportunity to discover and taste the 100 best Italian wines, as selected by
Wine Spectator. In 1998 Veronafiere also created Vinitaly International to develop a global platform for the promotion of Italian wine producers in foreign markets such as Russia, China, USA and Hong Kong.
# # #