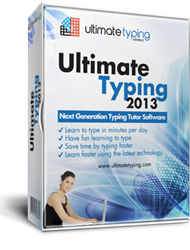 The faster the typist types, the faster they need to think, process, and put their thoughts into a coherent, meaningful sequence.
New York City, NY (PRWEB) May 25, 2014
Being mindful equals being more productive. Studies have repeatedly confirmed how mindful people are more keen to be productive and efficient at what they do. eReflect asserts that typing fast can actually help people improve their mindfulness levels and reach a new level of productivity.
eReflect is the developer of Ultimate Typing™ software, a system that helps people improve typing speed and accuracy. In their latest blog post titled "Typing faster can boost your productivity" the company maintains that multitasking is not the productivity booster that most people think. In fact, states the company representative, this practice should be avoided as it is an energy-exhausting and counterproductive cognitive process. Instead, people should direct all their energy and focus on a single task to boost their productivity. Those who multitask are more likely to make more mistakes than those focusing on individual tasks. The more cognitively heavy a task or project is, the more prone a person is to making errors and overlooking accidental mistakes.
People who practice mindfulness can direct all of their attention and cognitive ability to a single task and are able to resist the temptation to switch between tasks. This helps them concentrate on one project, rather than being distracted by things that more often than not are unrelated and counterproductive. While there are many practices that help people improve their mindfulness, such as meditation and yoga, eReflect contends that touch typing can be another way to boost mindfulness and, by extension, productivity.
As explained in the article, touch typing is a cognitively demanding task that requires the user's undivided attention. The faster the typist types, the faster they need to think, process, and put their thoughts into a coherent, meaningful sequence.
eReflect says that touch typing can be both a tool and an end in itself. By touch typing, a person improves their typing performance and at the same time learns how to be more mindful, resist multitasking, and ultimately become a more productive individual who's less prone to making mistakes. eReflect recommends a simple exercise: people should try and touch type for 5 minutes without stopping to look up a word, check their Twitter timeline, or answer a call. If they can last the full five minutes, they're already on their way to mindfulness. If not, it's a wake-up call to their habit of giving in to distractions. It's not impossible to multitask, concludes eReflect, but if it leads people to compromise their focus, the outcome is a loss of productivity in the end.
*********
For more details on Ultimate Typing™ please visit http://www.ultimatetyping.com/.
About Ultimate Typing™
Ultimate Typing™ software is designed specifically for the improvement of typing skills. Created by eReflect, a world leader in e-learning and self-development software, Ultimate Typing™ has been informed by the latest developments in the science of touch typing.
Since its creation in 2006 by Marc Slater, the company has already catered to over 112 countries all over the world, offering products with the latest cutting-edge technology, some of which are among the world's most recognized and awarded in the industry.