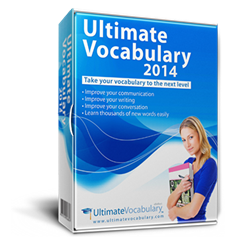 Vocabulary is an essential language skill.
New York City, NY (PRWEB) May 26, 2014
Vocabulary is an essential language skill. From opening the door to better career prospects, to improving personal authority and leadership status, to making more compelling deals and negotiations, an extensive vocabulary has a wide range of benefits for native and non-native speakers of the English language. eReflect confirms a reviewer's claim that Ultimate Vocabulary™ helps users learn English in a way that helps them enjoy these benefits in less time, for less effort.
eReflect's software provides language and vocabulary training that is fun, interactive, and easy to follow. With more than 140,000 words available, the software is essentially a dictionary-like database of words waiting to be learned. The program offers its own recommended word lists but the user also has increased control over the practicing material they will improve their vocabulary with. This allows each user to adapt the exercises for the most efficient study program.
Features such as the progress tracking technology and the vocabulary games provide a great source of vocabulary knowledge for English students of all ages and levels. After outlining the career and personal life benefits of an extensive, rich vocabulary, the reviewer at Powerful English Lessons explains how much more credible and authoritative a person will be if they have a versatile and extensive lexicon they can use to impress, command and influence those around them.
The vocabulary software review shows how Ultimate Vocabulary™ uses an integrated approach to vocabulary building, something that provides a fun and easy learning environment. Instead of offering just word definitions, it provides a range of information for each word, including usage examples, pronunciation, and images.
eReflect commented on the review, saying, "To build your vocabulary you need interesting and memorable activities and Ultimate Vocabulary™ ensures that the learner never gets bored. By providing variety and entertainment in a learning program, our software leads the user to always want to learn more and more new words through the many activities and vocabulary games on offer."
eReflect thanks Powerful English Lessons' review on Ultimate Vocabulary™ and is grateful that the effort put into creating a leading vocabulary builder continues to be recognized by respected authorities in the field.
***********
For more information on how you can benefit from Ultimate Vocabulary, please visit its official website, http://www.ultimatevocabulary.com.
About Ultimate Vocabulary™
Ultimate Vocabulary provides a proven and powerful platform, built to improve anyone's vocabulary.
The interactive self-improvement system provides more learning tools than any other program on the market, as well as more information on words.
The Ultimate Vocabulary software provides each and every user with a personal computer tutor. Providing a step-by-step guide to learning a powerful vocabulary, Ultimate Vocabulary is the learning tool everyone can benefit from.
Of course, the software is also backed by eReflect's iron-clad money back guarantee.