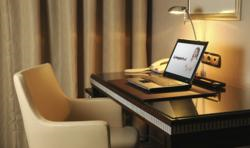 The true secret to increasing sales and greater profitability for your hotel or restaurant is in deep sincere communication with your customers.
Andover, Hampshire (PRWEB UK) 27 May 2014
It's been well documented from various studies over the last few years that guest WiFi has become the most requested guest amenity across the hospitality industry. There has been an exponential growth in the not just the amount of data each user requires but also the number of users that connect to the network has increased too.
Joe Burnell, Managing Director of Liveport UK says, "Yes there are now more users of guest WiFi than ever before, but the industry to date has been slow when it comes to monetizing these networks. Hotel and restaurant guests expect WiFi to be free so charging is simply not an option any more. The true secret to increasing sales and greater profitability for your hotel or restaurant is in deep sincere communication with your customers."
Liveport UKs new guest WiFi marketing service is an open door to beginning that communication. For more information on how this works, you can contact Liveport UK here.
When a guest connects to guest WiFi, they want it to be quick and painless. At the same time, the hotel or restaurant owner wants to maximise the value of the guest WiFi network they provide.
With this in mind, Liveport UK now offer SMS 2 Factor Authentication. With this feature, when a guest logs in, rather than registering a new account, they simply enter their mobile phone number and the system will automatically send the user a 4-digit pin code, which authenticates them on the network. This keeps the network legally compliant and greatly reduces the login time.
Liveport UK have taken this a step further and integrated a loyalty-marketing system that will increase sales to current customers, as well as creating hot new customers, automatically.
After the guest has left your property, the loyalty system kicks in, with carefully structured communications, proven to bring your guests back to your property, time and time again.
Burnell went on to say; "Because the hotel guest is expecting an SMS from us, we knew we had their full attention, once you have your guests attention, it is a great opportunity to tell them your message, or give them a reason to spend more whilst they're with you. By integrating the guest WiFi network with our customer loyalty system, we really were solving 2 problems in one go. Our guests spend less time logging in and more time connected whilst our hotel and restaurant owners can enjoy a significant increase in sales."
Liveport UK can provide a complete solution, from a fully managed guest WiFi system through to the loyalty programme itself.
About Liveport: Liveport provides wired and wireless high-speed Internet access (HSIA) services in more than 40,000 hotel and resort guest rooms throughout the world. Liveport is an Official Qualified Vendor for Choice Hotels International and services hotels under the IHG, Best Western, Wyndham, among others. Liveport includes hardware, legal compliance, installation, upgrades, network management, 24/7 guest technical support and more in one low, all-inclusive rate.