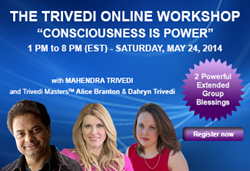 Las Vegas, Nevada (PRWEB) May 22, 2014
Mahendra Trivedi is going to host an immensely beneficial the Trivedi Online workshop 'Consciousness is Power' on Saturday, May 24, 2014, 1 PM to 8 PM (EST). This one day online workshop will explore why it is impossible to enjoy abundance in any area of your life without first raising the level of Consciousness.
Additionally, the participants will get two powerful blessings from Mahendra Trivedi and the webcast will be accompanied by Trivedi Masters™ Alice Branton and Dahryn Trivedi. During this webcast, Mahendra Trivedi will explain how one can harness the power within by transforming the Consciousness to a higher level with the help of The Trivedi Effect®.
The Trivedi Effect® is a natural phenomenon through which individuals can transform living organisms and non-living materials so they can function at a higher level and serve a greater purpose. It involves harnessing of Universal Energy and transmitting it to individuals through the power of thoughts. Mahendra Trivedi and the three Trivedi Masters™ possess the power to create The Trivedi Effect® through their powerful Blessings.
According to Mahendra Trivedi, with the help of The Trivedi Effect® people can strengthen their connection to their inner guidance system. This inner guidance gives people the ability to make correct and confident decisions in all walks of their life. It also brings good physical and mental health, emotional and psychological balance, financial abundance and healthy relationships. Gradually, The Trivedi Effect® eliminates the root cause of the majority of problems in a person's life and optimizes the person's potential and brings peace, happiness and mental calmness.
Mahendra Trivedi has carried out a number of research studies on the transformational properties of The Trivedi Effect® in collaboration with some of the most eminent scientists from top research institutes around the world, in order to authenticate it and eradicate the possibilities of the placebo effect. The results of some of these experiments are published in international, peer-reviewed, scientific journals.
The Trivedi Online workshop 'Consciousness is Power' is a rare insightful event that will help the participants to bring the Grace of God in their lives. To know more about this workshop and to register, please visit http://www.trivedimasterwellness.com/trivedi-online-workshop/.
About Trivedi Master Wellness™: Mahendra Trivedi has the unique ability to create The Trivedi Effect® and has the scientific evidence to prove it. This phenomenon of Energy Transmission has been tested in over 4,000 experiments conducted using stringent methodologies and the most advanced technologies available on this planet. Many results have been published in leading international, peer-reviewed, scientific journals. Each experiment shows significant transformation with consistent results. The resulting changes show that this energy has the remarkable ability to improve the functionality and potential of an individual. Trivedi Master Wellness™ established in 2011 is intended to provide the benefits of The Trivedi Effect® to optimize human potential throughout the world.