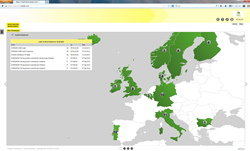 With MPDviewer, EXTEDO has created an easy-to-use, comprehensive tool for viewing and analyzing medicinal product data. MPDviewer enables MAHs to be prepared best possible for mandatory resubmission of XEVMPD data in course of 2014.
Ottobrunn/Munich, Germany (PRWEB UK) 23 May 2014
EXTEDO, a key Regulatory Information Management solutions provider for life sciences firms, announced today the release of MPDviewer, the vanguard for a new generation of XEVMPD solutions.
MPDviewer is a sophisticated, free, graphic based viewer for authorized medicinal product data reported to the Extended EudraVigilance Medicinal Product Dictionary (XEVMPD). The January 2014 update of the pharmacovigilance legislation requires all medicinal product data presently in the XEVMPD database to be resubmitted in order to comply with the new requirements.
"MPDviewer is the ideal tool for review and analysis of medicinal product data records in preparation for resubmission," says Maximilian Munte, Managing Director at EXTEDO. "It helps the marketing authorization holders prepare for the updates by ensuring that their companies' processes and data are up-to-date."
It only takes a few mouse clicks to query and download medicinal product data from the EMA database or a file system and then view, organize, filter, and display it. MPDviewer features a user-friendly interface that requires only minimum keystrokes. Contents are summarized and all information is clearly displayed in easily readable and understandable form and format. One can generate and share informative reports in Excel, Word and PDF-Format.
"The key feature of MPDviewer is its innovative dashboard. The dashboard presents report results graphically and provides at-a-glance information on statistics," says Maximilian Munte. "With MPDviewer, EXTEDO has created an easy-to-use, comprehensive tool for viewing and analyzing XEVMPD data. It is our easy-to-use alternative to EVWeb," adds Maximilian Munte. "MPDviewer is the first product in our new series of XEVMPD solutions and will soon be followed by MPDmanager 2014, our comprehensive XEVMPD database system for maintenance, updates and (re-)submission of medicinal product data."
About EXTEDO
EXTEDO is the key software and service solutions provider in the field of Regulatory Information Management (RIM). EXTEDO's focus is on optimizing clients' eRegulatory business processes. The company's enabling technology, the EXTEDOsuite, is unique in that it covers the complete regulatory landscape including: product registration planning & tracking (IDMP), submission publishing & lifecycle management, pharmacovigilance management and document management. Today, EXTEDO serves over 700 customers in 60 countries, including the EMA and more than 25 regulatory authorities worldwide.
For more information visit http://www.extedo.com.