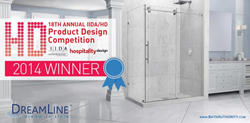 (PRWEB) May 22, 2014
DreamLine's Enigma-Z Shower Door won the prestigious Excellence Award at the 2014 HD Expo IIDA/HD Product Design Competition. The Enigma-Z with ClearMax™ lead free glass won for its sophisticated frameless design complemented by striking stainless steel hardware. All of DreamLine's shower door products offer the functionality of turn-key solutions as well as the flexibility of custom design.
DreamLine's Enigma-Z Shower Door delivers flawless sliding door operation and sharp urban style. DreamLine's Engima-Z features premium 3/8 inch (9mm) thick clear tempered glass. It is treated with exclusive ClearGlass protective coating for superior protection and easy maintenance.
DreamLine is a renowned global manufacturer and distributor of shower doors. They have achieved worldwide accolades within residential and commercial marketplaces for off-the-shelf shower doors with sleek modern style and offering immense value. DreamLine's Commercial Project Group has delivered project solutions for national casino resorts to worldwide hotel chains. Partnering with DreamLine's Commercial Project Group allows clients to customize design and manufacture the perfect shower door solution to any commercial or hospitality project. DreamLine also provides a selection of unique bathroom product designs in shower bases, shower and tub backwalls, shower columns, bathroom vanities and vessel sinks. For more information on DreamLine's bathroom product selection, visit: bathauthority.com.