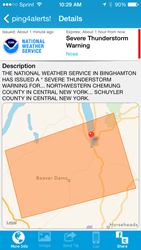 Nashua, NH (PRWEB) May 22, 2014
Beginning today, the Schuyler County Emergency Management Office (SCEMO) will use Ping4 Inc.'s mobile communications solution, ping4alerts!. Citizens can download this free app on their Apple or Android devices to be instantly notified of public safety concerns.
"Using Ping4 Inc.'s technology, we are now able to notify Schuyler County's 18,500 residents of immediate dangers and emergencies," said Bill Kennedy, Schuyler County Emergency Management Office. "We can set an alert to the boundary of a town, road, building, or any other area, making sure people are only getting the information about events that may affect them."
Ping4alerts! is a free iOS and Android app that uses the location based technology inherent in today's smartphones to deliver notifications within a highly-localized area. Using any web-browser, SCEMO can draw a shape on a map as small as a street or broadcast a message to the entire city. Ping4 Inc. delivers rich media alerts that can include images, custom audio, video and mobile web links. These features coupled with the platform's precise accuracy, insure public safety information is targeted, instant and, above all, relevant.
Ping4alerts! protects user anonymity and does not require users to provide any personally identifiable information such as a phone number, street address, or email address.
These mobile notifications are delivered over the Internet through GPS, cellular, and available Wi-Fi networks. Citizens who download ping4alerts! will also receive NOAA's National Weather Service advisories for severe weather. Other features include the ability to view nearby level 2 and level 3 sex offenders. Users can also establish watched locations for home, work, school, or a relative's house to receive alerts for multiple locations.
"The value of our product is its ability to deliver time sensitive, relevant information to users based solely on their location," said Norm Archer, VP of Marketing. "This technology provides a timely and relevant communication channel to citizens, whether they be residents or visitors, during emergency situations. The Schuyler County Emergency Management Office is a fine example of forward-thinking agencies that are seeking innovative ways to make their community safer."
Citizens and visitors are encouraged to download ping4alerts! by simply visiting the App Store or Google Play.
About Ping 4, Inc.
Ping4 Inc., is a mobile communications company that delivers real-time, location-based alerts to any iOS or Android mobile device. Public safety agencies license the platform to keep citizens informed of extreme weather events and other fast-moving situations. User identity is 100% protected as no personally identifiable information is required when downloading the app. For more information, please visit http://www.ping4.com.
Contact: Kyla Natali
Public Relations Manager, Ping4 Inc.
Email: Kyla(dot)Natali(at)ping4(dot)com
Phone: (603) 548-8533