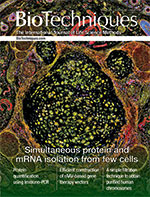 New York, NY (PRWEB) May 27, 2014
The May 2014 issue of BioTechniques (http://www.biotechniques.com) is now available as an open access journal featuring the following articles:

Misfolded protein? We have a chemical for that
Simultaneous isolation of mRNA and native protein from minute samples of cells
Isolation and characterization of mammalian cells expressing the Arf promoter during eye development
Lessons learned from vivo-morpholinos: How to avoid vivo-morpholino toxicity
A simple filtration technique for obtaining purified human chromosomes in suspension
Efficient construction of rAAV-based gene targeting vectors by Golden Gate cloning
Comparative next-generation sequencing of adeno-associated virus inverted terminal repeats
Concordance of Affymetrix GeneChip® Human Transcriptome Array 2.0 and real-time PCR results using USB® VeriQuest® qPCR master mixes
Purification of High-quality DNA from Saliva Samples with DANAGENE Saliva System applied to TargetSeq-NGS protocols
Sensitive ligand-based protein quantification using immuno-PCR: A critical review of single-probe and proximity ligation assays
Keywords: p19Arf; primary vitreous; perivascular cells; primary cell isolation; arf, eye development; hyaloid regression; RNA isolation and purification, enzyme assay, oligo (dT), ovary, antibodies; immunoquantitative PCR, proximity ligation assay, immuno-PCR, multiplex protein analysis, aptamers
Also available is the April 2014 issue of BioTechniques featuring the following articles:
The twisted path to pluripotency
Coating extracellular matrix proteins on a (3-aminopropyl)triethoxysilane-treated glass substrate for improved cell culture
GENESUS: A two-step sequence design program for DNA nanostructure self-assembly
Lyophilized Escherichia coli-based cell-free systems for robust, high-density, long-term storage
Advantages of using the QIAshredder instead of restriction digestion to prepare DNA for droplet digital PCR
Inactivation of an integrated antibiotic resistance gene in mammalian cells to re-enable antibiotic selection
Profile of Xiaoliang Sunney Xie - Mallinckrodt Professor of Chemistry and Chemical Biology, Harvard University
Keywords: CRISP/Cas, selectable markers, digital PCR, genomic DNA, copy number analysis, recombinate proteins, cell-free protein synthesis, proteomics, Western blots, DNA nanostructures, computational biology, DNA self-assembly, cell culture, extracellular matrix, glass slide coatings, stem cell biology, stem cell analysis, molecular biology
BioTechniques is available in print, digital replica, and mobile app formats for iPad, iPhone, and Android phones and tablets. Subscribe online to receive print editions by mail or monthly email alerts for digital and mobile app editions. Digital and mobile access is available at least one week prior to print issues.
To view digital replica editions or download mobile app platforms for Apple or Android devices from the Apple App Store, Google Play or Amazon Appstore, visit: http://www.biotechniques.com/digital.
To request a subscription or update your subscription to include digital and mobile alerts, visit: http://www.biotechniques.com/subscribe.
About BioTechniques
BioTechniques, the international journal of life science methods, provides open access to first-quality, peer-reviewed papers on laboratory techniques and protocols. Now in its 56th volume, BioTechniques has over 80,000 print subscribers worldwide. The journal augments its peer-reviewed content with feature articles and topic-specific supplements. Visit http://www.biotechniques.com for more details or to subscribe.