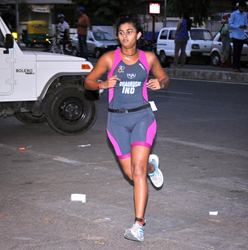 To Swiftwick, 'Do what moves you' is a world-wide initiative.
Brentwood, Tenn. (PRWEB) May 22, 2014
Swiftwick, a leading U.S. producer of athletic compression socks, is proud to announce Pragnya Mohan as the winner of the TIO Swaraaj Super Sprint Triathlon. The April 20th event was the first triathlon to be held in Gujaratand and the largest triathlon ever held in India to date. Participants were required to first swim 200 meters, then bike 8 kilometers and finally run 2.5 kilometers.
"Congratulations to Pragnya," said Swiftwick CEO and Co-founder, Mark A. Cleveland. "To Swiftwick, 'Do what moves you' is a world-wide initiative."
Swiftwick sponsored the triathlon and provided all athletes who placed in each division with ASPIRE compression socks, which are constructed for comfort, moisture management and optimal fit. The socks are thin and light for minimalist running shoes and tight cycling shoes. Swiftwick eliminated the toe seam using linked toe technology, which prevents bunching in the toe box, blisters and hot spots.
"We wanted to sponsor Gujarat's first triathlon because Swiftwick is focused on getting the best socks in the world on the feet of the best athletes across the globe," said Cleveland. "Creating brand exposure in an emerging market and building relationships with key partners, retailers and athletes across the globe is another step we're taking in our international expansion."
The triathlon was created to give athletes in Gujarat an approachable, distance-friendly introduction to the sport and inspire participants to live a more healthy and active life. Gujarat is known for being the unhealthiest state in India, with the highest obesity, heart disease and diabetes rates.
"A race like this in India is monumental because many participants had never trained for or competed in a triathlon before," said Co-Race Director Kimberly Shah. "They are now more open to the idea that sports can be fun and have a positive effect on their health. We are moved by Swiftwick's support and enthusiasm for changing the lives of so many people and being a big part of this unique event."
Lihas Trivedi, founder of LS Sports and co-race director, spearheaded the sprint triathlon initiative to encourage fitness in athletes of all ages. He is passionate about wellness in India and using high-quality apparel and gear in order to succeed.
To learn more about the TIO Savvy Swaraaj Super Sprint Triathlon, visit http://www.lssports.in.
About Swiftwick
Founded in January 2008, Swiftwick is headquartered in Brentwood, Tenn. The company is a performance sock manufacturer that proudly employs an American workforce in high-quality textile manufacturing. Swiftwick is an innovator in designing and producing superior socks. The company has a culture focused on manufacturing through environmentally friendly means, social responsibility and leading customer service. Learn more at http://www.swiftwick.com.