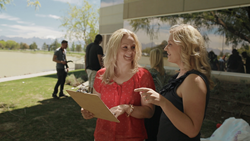 Salt Lake City, UT (PRWEB) May 23, 2014
Today, at the 15th annual 30 Women to Watch Awards Luncheon, CLEARLINK's Vice President of Human Resources, Cammie Cable, will be recognized as one of Utah's most dynamic women. Sponsored by Utah Business, the award spotlights women who influence their companies for the better, create a positive impact on their communities and play an important role in shaping the state.
Cable was honored for building a culture at CLEARLINK that uniquely engages both employees and the community. She created a holistic wellness program that allows all employees to earn 100% healthcare for their families by getting and staying healthy. In the midst of healthcare reform and the Affordable Care Act, her leadership and commitment to employees has helped maintain and grow healthcare benefits..
"Cammie is deeply invested in CLEARLINK, which translates to a passion for engaging our people and the communities they touch," said Sam Funk, CFO and COO of CLEARLINK. "She is an innovator in her field and one who represents the heart of our company. This award could not go to a more talented individual."
Cable's reach extends to the community and a cross-sector of HR professionals. She is the co-chair for Utah Technology Council's HR Peer-2-Peer Forum, and she mentors other professionals throughout Utah on HR best practices and innovative approaches to engaging people. She is a regular presenter for Worksite Wellness Conferences and Corporate Wellness by Gold's Gym business seminars.
"Cammie's creativity in shaping a wellness program at CLEARLINK leads to success stories, and people are excited to be healthy in all aspects of their lives," said Heidi Strickland, wellness director at Gold's Gym Corporate Wellness. "She is a wealth of knowledge, a strong partner to her peers and one many organizations can learn from."
To learn about creating effective wellness programs and engaging employees, hear from Cable directly in this linked video. View the complete list of Utah Business' 30 Women to Watch.
In 2013, CLEARLINK was named one of America's top 100 companies to work for according to Outside magazine, and CEO, Phil Hansen was recognized as the Ernst & Young Entrepreneur of the Year® in the Services category of the Utah Region. Recently, in 2014, CLEARLINK's 360 Fit Wellness program has been awarded the Healthy Worksite Gold Award and the Corporate Wellness by Gold's Gym Diamond Award.
About CLEARLINK
CLEARLINK partners with the world's leading brands to extend their online and offline marketing reach, drive and fulfill valuable sales transactions, and deepen the insights brands have of their consumer's behaviors and response. Through CLEARLINK's customized sales and marketing solutions and proficient sales professionals, they have delivered millions customers to their brand partners over the past ten years.
CLEARLINK, headquartered in Salt Lake City, Utah and established in 2003, employs over 1,200 local sales, technology and marketing professionals. For an opportunity to join the growing CLEARLINK family, visit http://www.clearlink.com/jobs.
Media Contact
Marki Perkins
Public Relations Specialist
CLEARLINK
Marki.Perkins(at)clearlink(dot)com