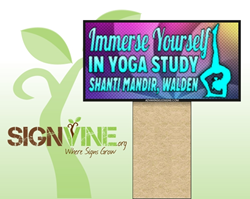 This crowdfunding trend can work for a nonprofit raising money for an outdoor message sign.
Ontario, CA (PRWEB) May 27, 2014
Today, Mike Prongue, Campaign Director for SignVine, announced the world's first crowdfunding campaign to raise money for an outdoor LED message sign with Shanti Mandir in Walden, NY. He also urged all those interesting in supporting this campaign to visit the SignVine.org website to read their telling story and watch their video.
The unique SignVine campaign link to give and share is: http://www.signvine.org/shantimandir.
"A new message sign will help us spread the word to those who want to participate in the activities we offer, to those who are in need of the social service we offer, and to those who want to contribute towards our noble causes." - Vinay Desai, Shanti Mandir
SignVine.org is a specialized crowdfunding website that provides churches, civic groups, and other deserving nonprofit organizations their own unique webpage for fundraising online from the local and national community towards the purchase of an outdoor message sign. They can tell their story or cause, show pictures and inspirational videos, and share updates to their online community.
"We are happy and honored that the Shanti Mandir selected SignVine to execute this campaign," Prongue said, "and we know that they will be successful in achieving their funding goal of approximately $42,000, when the Walden community rallies to support this effort."
Shanti Mandir, is a community-oriented nonprofit organization located in Walden, NY that offers a comprehensive program of activities to improve people's lives through the practices of meditation, yoga, chanting, workshops, retreats, Indian classical music concerts, healthy and delicious food, and four charitable activities. The charitable activities include Mobile Health Clinic, Eye Camps to give treatment to patients with eye diseases, a school that provides holistic education to impoverished youth, and a project towards empowering women as peaceful agents of social change.
"Our outreach goals include inviting those in the local community to participate in our activities and also collaborating with the community in various projects," stated Vinay Desai.
Paul Martin, Project Director for SignVine, stated, "This is truly a defining moment for SignVine, and one I believe will show other nonprofits that this crowdfunding trend can work. We also would like to thank our Builder, Advantage LED Signs, who is working with us to build the new sign for Shanti Mandir."
SignVine is a nonprofit organization started by message sign industry professionals with the mission to empower nonprofits by helping them raise money towards an outdoor message sign for outreach in their community. For more information on SignVine, please visit their Website at http://www.signvine.org or call toll-free 844-807-9720, to speak with Mike.