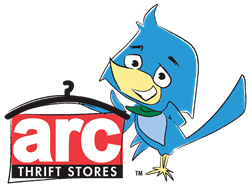 We are honored to receive the 2014 Ethics in Business Award from the Golden Rotary. The importance we place on our mission exemplifies the integrity and moral standards that our nearly 1,400 team members live by each and every day"
Denver, CO (PRWEB) May 22, 2014
Arc Thrift Stores was nominated among 17 other organizations for this prestigious award. Students from the School of Mines collect all of the nominations and ultimately vote on the winning organization. According to Jerry Lovejoy of the Golden Rotary, "The students were struck by Arc Thrift Stores mission to support people with Intellectual and developmental disabilities. In addition, the implementation of ethics hotlines and handbooks was an important cornerstone in communication of ethical expectations for the organization." Both of these important elements led to Arc gaining the award from the students.
Formed 46 years ago, Arc Thrift Stores' 22 retail stores generate funding to support Arc Chapters in the state of Colorado. These chapters support advocacy for people with intellectual and developmental disabilities. Since 2009 Arc has grown employment of people with disabilities from 25 – nearly 200 individuals.
"We are honored to receive the 2014 Ethics in Business Award from the Golden Rotary. The importance we place on our mission exemplifies the integrity and moral standards that our nearly 1,400 team members live by each and every day," stated Lloyd Lewis, President and CEO, Arc Thrift Stores.
This is the 9th year that the Golden Rotary has held the Ethics in Business Award program. Over 340 people attended the event including several individuals from Arc Thrift Stores leadership team.
About Arc Thrift Stores: As one of Colorado's largest social enterprises, Arc Thrift Stores operate 22 thrift stores and 10 "donation stations" throughout Colorado. Arc Thrift Stores provides funding to arc Chapters, which in turn provide advocacy for people with intellectual and developmental disabilities. Arc Thrift Stores is one of the largest employers of individuals with developmental disabilities in the state of Colorado. http://www.arcthrift.org