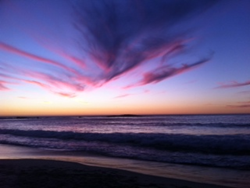 Is the perfect beach for romantic walks and horseback riding.
Johannesburg, Gauteng, South Africa (PRWEB) May 27, 2014
Voters on Cheap Flights SA have named seven beaches of South Africa as the best secret vacation spots for tourists. These beaches are great to relax and rediscover South Africa.
72 travel experts gave most points to the following beaches: Wild coast beaches, st Michaels, Llandudno Beach, Noetzie, Long beach, Bakhoven & Camp's bay.
Noah Laith of Cheap Flights SA reveals the ways to reach those less known vacation spots: "Wild coast beaches are from Port Edward down to Mazeppa Bay and are reachable from Airport Durban. These are some of the finest and untouched coastlines, the warm water of the Agulhas current, long and empty golden beaches, rocky shores with a huge diverse animal kingdom."
St. Michaels Beaches are primarily made up of marinas and fishing docks, beach access can be difficult to find, however, many beach options surrounding St. Michaels within driving distance. A number of quiet beaches can be found around the Chesapeake Bay.
Llandudno Beach is one of the Cape's most beautiful beaches, surrounded by large granite boulders and overlooked by mountains. It is also a popular surfing spot.
Noetzie, ten minutes East of Knysna lies a secluded cove with an untouched beach, and an amazing collection of classic beach houses.
Long Beach in Cape Town is the perfect beach for romantic walks and horseback riding.
Bakoven Beach is a very small white sand beach which is surrounded on either side by rocks and boulders. The reason for including it in the list is that this secluded little bay is a great place for having a private sunbath and relaxing & at last but not least Camp's bay reachable from Cape Town airport is a public secret that if you avoid it in the period of November to February, then it can be an amazing romantic beach with magical sunsets and seamless transition between the beach and the clubs.
About Cheap Flights SA:
Cheap Flights SA is a low-cost carriers comparison website where you can find the cheapest flights from all the major and low-cost carriers (such as Mango, SAA and Kulula) displayed in one place. It is one stop shop for all the cheap flights in South Africa and from South Africa going international. It's like having your own private travel agent.
Cheap Flights SA: Flight comparison tool that save visitors money and time; Search and book for flights immediately without waiting for any quote; The lowest service fees in the industry because it is online and savings goes to the customers; All needed addons like travel insurance, hotel bookings, car rentals, sms confirmations and great assistance;
For national and international flights, you can check: http://cheapflightssa.co.za/flight-bookings.