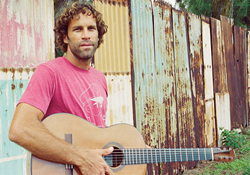 Waitsfield, VT (PRWEB) May 22, 2014
On May 23, Jack Johnson, 1% for the Planet Ambassador and business member, will perform at the Boston Calling Music Festival in Boston, MA, kicking off a summer long collaboration with 1% for the Planet, the world's largest environmental network. During his 2014 summer tour, Jack will entertain crowds around the globe. He'll simultaneously raise awareness around sustainable local food systems and plastic free initiatives in his All At Once Village Green, which highlights several environmental nonprofits within the 1% for the Planet network.
Jack Johnson joined 1% for the Planet in 2004, becoming the 50th business member to join the movement. Businesses within the network donate at least 1% of sales annually directly to nonprofit partners to maintain membership, however, this past year Jack went well beyond the required minimum, donating nearly 6% of record royalties and 100% of his net tour income back to environmental organizations. A longtime advocate for the earth, Jack is also an ambassador for the network, raising awareness and encouraging additional organizations, businesses, and individuals to get involved.
From May 23 – September 1, 1% for the Planet will hit the road with Jack, appearing at multiple venues from New York to Hawaii to gain support and raise awareness about 1% for the Planet and Jack's commitment to local foods, clean water, and a plastics-free lifestyle. 1% for the Planet will attend the following shows:

May 23 – Boston, MA (Boston Calling Festival)
May 30 – Cuyahoga Falls, OH
June 7 – Wantagh, NY (Jones Beach)
August 1 – Oahu, HI (Wakiki Shell)
August 23 – Quincy, WA (The Gorge)
August 28 – Los Angeles, CA
As part of the All At Once Village, Jack Johnson's tour is collaborating with over 130 community groups that focus on plastic-free initiatives, sustainable local food systems, and other hands-on, grassroots environmental projects. At most Jack Johnson shows, nonprofits from the 1% for the Planet network will be on-site and for every donation made by fans, Jack's charity, the Johnson Ohana Charitable Foundation, will offer a matching contribution up to $2,500.
"As our 50th member and a longtime ambassador, Jack has always gone above and beyond to encourage individual action to better the environment," said 1% for the Planet's Managing Director, Melody Badgett. "We're excited to be able to partner with him during his summer tour to amplify his work through our network."
Jack Johnson's All At Once Campaign was founded in 2008 and aims to empower consumers to connect with nonprofits, take environmental action, and receive recognition for their efforts. Jack empowers people to get involved with a simple mantra: An individual action, multiplied by millions, creates global change.
To learn more about 1% for the Planet's involvement on Jack Johnson's tour this summer, visit: http://www.loveblue.org. To learn more about Jack Johnson's All At Once Campaign, visit: http://www.allatonce.org and for a complete list of Jack Johnson tour dates visit http://www.jackjohnsonmusic.com.
About 1% for the Planet
Started in 2002 by Yvon Chouinard, founder of Patagonia, and Craig Mathews, owner of Blue Ribbon Flies, 1% for the Planet is a platform of credibility and engagement for environmentally conscious brands that are truly committed to making a positive impact with their business. This global movement of more than 1,200 member companies in 48 countries donate one percent of annual sales directly to approved environmental organizations worldwide. To learn more go to: http://www.onepercentfortheplanet.org.
About Jack Johnson
Jack Johnson grew up surfing and playing guitar on the North Shore of Oahu. He released his first album Brushfire Fairytales in 2001 and since has released 6 studio albums and 2 live albums that have sold over 20 million copies worldwide. With his success, Johnson has always tried to take the spotlight and shine it on issues important to him. In 2003, Jack Johnson released On and On and, with his wife Kim, founded the Kokua Hawaii Foundation and Kokua Festival to support environmental education in Hawaii's schools and communities. Johnson, his Brushfire Records label, and his touring crew have been leaders in the greening of the music industry in all areas of tour production and album packaging. In 2004, Johnson became the 50th member of 1% For The Planet and Johnson's 2005 release of In Between Dreams became the first album to carry the 1% label. In 2008, Johnson released Sleep Through the Static, recorded in his solar-powered studio, and donated 100% of his tour profits to establish the Johnson Ohana Charitable Foundation, an endowment founded by Jack and Kim Johnson to support environmental, art and music education worldwide. In 2010, Johnson released To The Sea and again donated 100% of that tour's proceeds to charity. These tour profit donations, along with Johnson's personal charitable activities, have resulted in over $25 million donated to charity since 2001. Jack Johnson's latest release, From Here To Now To You, debuted at #1 on the Billboard Charts and his current tour is supporting non-profits working in the realms of sustainable food systems and plastic free initiatives.