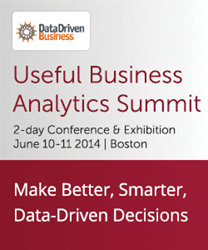 We've heard time and time again that, with a few exceptions, attendees really prefer the less salesy client side presentations.
Boston, MA (PRWEB) May 27, 2014
Business and analytics conferences seem to be everywhere today. Thanks in part to social media and its ability to quickly identify and communicate with specific professional groups, there has in fact been a proliferation in conferences in recent years, all claiming to feature the most "innovative" companies and speakers.
The problem with many of these events though are that they are too supplier-driven. In other words, many conference producers create a pay-to-play type environment where companies selling a certain software or service pay a fee in order to speak at the event. Unfortunately, little thought is often given to how suitable and interesting the content or speaker is.
Hoping to break this cycle, the folks at Data Driven Business recently put together a new event called the Useful Business Analytics Summit. Unlike other events, only client side professionals from Fortune 1,000 firms are invited to speak and share their best practices. "We've heard time and time again that, with a few exceptions, attendees really prefer the less salesy client side presentation," said Alesia Siuchykava who is coordinating the event, continuing, "so this year we did something entirely different and are allowing only selected clients to speak, and some of our best supplier side speakers to help moderate the event and speaker panels".
Tom H. C. Anderson, founder and CEO of OdinText are one of a few supplier side executives who have been invited to sponsor and also help moderate the event. Mr. Anderson who is invited to speak at over 20 conferences each year on the topic of text analytics commented, "I thought it was a great idea. I saw something similar at a recent at a business conference at Yale where there were mainly academic speakers. I welcome the offer to moderate a panel of clients, turning the table and asking them the tough questions," joked Mr. Anderson who has also conducted a series of interviews on his blog with titles like 'How to communicate analytics to the CEO' complete with tips like "Dumb it down, way down! – No the CEO isn't a five year old, but if you're spouse falls asleep reading it, your CEO might too."
The Useful Business Analytics Summit will take place in Boston on June 10-11. Read more about the summit here: http://www.datadrivenbiz.com/useful-business-analytics/index.php.