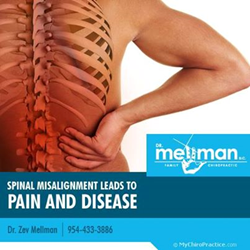 "Specific and individualized Chiropractic care is well-documented for its outstanding patient outcomes and satisfaction scores,"
Pembroke Pines, Florida (PRWEB) May 23, 2014
A recent evidence-based study, "Aging baby boomers and the rising cost of chronic back pain: secular trend analysis of longitudinal Medical Expenditures Panel Survey (MEPS) data for years 2000 to 2007," (J Manipulative Physiol Ther.; 1.1.2013), concludes that the prevalence of back pain and costs associated with existing treatment patterns have and will continue to escalate -- in part due to an aging population. According to the Foundation for Chiropractic Progress  (F4CP), a not-for-profit organization dedicated to raising awareness about the value of chiropractic care, "utilization of chiropractic care presents opportunities for improved patient outcomes and decreased costs."
"Specific and individualized Chiropractic care is well-documented for its outstanding patient outcomes and satisfaction scores," states Dr. Zev Mellman, Distinguished Pembroke Pines, FL Chiropractor referencing the latest study, "Spinal High-Velocity Low Amplitude Manipulation in Acute Nonspecific Low Back Pain: A Double-Blinded Randomized Controlled Trial in Comparison With Diclofenac and Placebo," (Spine; 4.1.2013), which found spinal adjustments to be significantly better than non-steroidal anti-inflammatory drug diclofenac and clinically superior to placebo for patients with acute non-specific low back pain. "Chiropractic care when utilized as first option for back pain, can help with avoidance and/or dependance of risky and costly drug measures, and promote equal or greater clinical outcomes & patient satisfaction." states Zev Mellman, D.C.
The JMPT analysis conducted by researchers out of the National University of Health Sciences, a leader in chiropractic education since 1906, found no indication of a decline in regards to the number of chronic back pain incidents and costs coupled with current treatment patterns. Dr. Zev Mellman asserts that this conclusion demonstrates the strong need for a re-evaluation regarding spinal care and a re-prioritization of healthcare spending and routine treatment standards.
About Pembroke Pines Chiropractor Dr. Zev Mellman
Dr. Zev Mellman has helped thousands of Pembroke Pines / Hollywood / Miami residents eliminate the source of their pain and discomfort while helping them regain their youth and vitality. Utilizing the latest in Chiropractic BioPhysics®, advanced digital analysis tools, and cutting edge therapies, Pembroke Pines, FL chiropractor Dr. Zev Mellman can pinpoint the source of your ailment, correct its cause, and teach you how to protect yourself from re-injury.