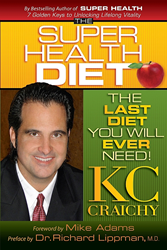 "Ty Bollinger is on a mission to get this information to the world. I am honored to be a part of this important work." KC Craichy, Founder & CEO, Living Fuel
Orlando, FL (PRWEB) May 26, 2014
"The Quest for The Cures" follows Ty Bollinger, who lost both his mother and father to cancer (as well as five other family members), as he travels the country and sits down with the foremost doctors, researchers, experts and survivors to find out their proven methods to preventing and treating cancer. One of those experts is KC Craichy, Founder & CEO of Living Fuel.
"Ty Bollinger is on a mission to get this information to the world," Craichy said. "I am honored to be a part of this important work."
"The Quest for The Cures" will run every night this week. Each episode will air primetime at 9pm Eastern Daylight Time and again at 9pm Pacific Daylight Time.
Episode 1: The Cancer Pandemic
Cancer has reached epic proportions worldwide. Why? What's different now than just 100 years ago? What can people do about it?
Episode 2: Are People Immune?
How strong are people's immune systems? In this episode viewers will learn just how important their immune system is for fighting, destroying, and of course preventing the development of cancer and many other diseases.
Episode 3: Franken-Foods & Cancer Causers
Thankfully more and more people are aware of the risks and causes of GMO's (Genetically modified organisms), but they may not know there are a lot of everyday items that are chemically destroying their body and immune system.
Episode 4: Spoiled Rotten
People live in a much more toxic world than they did even just 50 years ago. And while many people have heard the numerous benefits to detoxing, there is an exact science to it, especially when it comes to treating cancer.
Episode 5: Eating Away At Cancer
People hear the opposite reference all the time, "Cancer is eating away at your body." This episode will demonstrate that there are proven methods to reverse this.
Episode 6: What Would Doc Do?
Ever wonder what doctors do when they are diagnosed with breast cancer or colon cancer? Well in this episode, the doctors share exactly what they would do if diagnosed with different kinds of cancer.
Episode 7: How to Survive and Thrive
How did they survive? What did they do? Learn firsthand from survivors who beat the odds.
(Due to popular demand, additional replays of the show will be available the following day from 7am – 7pm Eastern for friends around the world and those who can't attend the live broadcasts).
KC Craichy will be featured on several of the episodes this week and will emphasize the importance of natural healing.
"Insanity is said to be continuing to do the same things and expecting a different result," Craichy said. "My vision is that one day the truth about healing will permeate all areas of conventional medicine including cancer care. That we will take what we are doing that works and combine it with treatments that work but are now called alternative approaches and really help people get better."
KC Craichy is a health advocate, researcher, and recognized expert on natural health and performance nutrition. His extensive study of leading-edge health research and collaborative work with top medical and nutritional practitioners and researchers to solve his wife Monica's health problems—anxiety, depression, and suicidal thoughts—led him to the answers for Monica's healing and to the founding of Living Fuel, Inc. As a result of overcoming this health crisis, KC and Monica have helped numerous people become overcomers in their own health situations. Together they are now cohosts of the popular Internet TV program LivingFuelTV.
KC is committed to changing lives through multimedia, super health lifestyle education combined with super healthy, high impact superfoods. He is a Performance Nutrition Specialist and serves on the Nutrition Advisory Board for Titleist Performance Institute. KC also served on the Clinical Nutrition Review Board (the certifying body of the International and American Association of Clinical Nutrition) for seven years. A frequent natural health and performance nutrition guest on various TV and radio programs as well as a frequent contributor to national magazines and blogs, KC lives in Orlando, Florida, with his wife, Monica, and their five children.