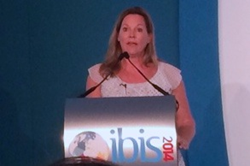 "We need to get creative in the body shop industry with the ways we recruit," Blaker told the audience.
Rochester Hills, Michigan (PRWEB) May 26, 2014
IBIS is the world's most influential forum for collision repair industry leaders and market influencers. The symposium probed issues that influence the collision repair sector, bringing knowledge and insights of the industry's most innovative thinkers to bear on the markets most important challenges.
"We need to get creative in the body shop industry with the ways we recruit," Blaker told the audience. "We also need to keep in mind the younger generation and how their needs are different from the older generation. This generation is more concerned with developing a proper work, life balance."
Blaker, is an award-winning international business leader and has honed her skills in workforce development to steer TTi Global to a growth of over 263% in the past five years.
"Technology is playing a crucial role in recruiting and people are finding more jobs using social media," Blaker said. "You have to consider your brand and define your uniqueness and your particular culture so the recruit knows who you are. Let them see what it will be like to be a part of your brand and ensure you live up to that vision!"
TTi Global, has developed a strong corporate brand and has grown into a worldwide business consultancy and solutions provider, offering client-tailored programs in outsourcing, competence and workforce development, specialist staffing and recruitment and instructor and web-based training.
TTi Global provides staffing, learning, research and consulting solutions to industries across various sectors with automotive as a core focus. TTi Global oversees operations on five continents with offices spanning the globe, which include Australia, Brazil, Canada, Chile, China, India, Japan, Mexico, Peru, South Africa, Thailand, Venezuela, UK and most recently Afghanistan.
With a staff of over 2000 employees in international operations, they offer a wide range of services, tailor made to drive business goals, including business consulting, research, staffing, workforce development and learning solutions. TTi Global world headquarters are located in Rochester Hills, Michigan.