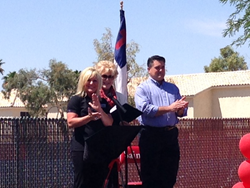 ... It's great to know that what we do makes a difference.
Las Vegas, NV (PRWEB) May 24, 2014
Last week was busy for Service 1st Energy Solutions, a local energy efficiency and solar company. Just off the heels of being nominated for an award, Service 1st Energy Solutions also celebrated a noteworthy accomplishment, installing the largest solar system for a Nevada private school in 2013. Mayor Carolyn Goodman joined to speak about the benefits of solar for our local schools and the direct correlation of how Service 1st Energy Solutions is contributing to the green initiatives in our community.
On May 12th, 2014 Service 1st Energy Solutions enjoyed the company of Mayor Carolyn Goodman, Chief Sustainability Officer Tom Perrigo, and Pastor Tom Van Kempen and Superintendent Dr. Crystal McClanahan Van Kempen of Mountain View Christian School. Not to mention, approximately 100 students from the school joined together to bring awareness and recognition to the recently installed solar system.
Scott Shaw, Director of Research and Development for Service 1st Energy Solutions, said, "The event was a huge success. Seeing the excitement from the students as the Mayor spoke was a priceless moment. It's great to know that what we do makes a difference."
As the event ended, Service 1st Energy Solutions was preparing for yet another big accomplishment – award nomination. A few months ago, Nevada Business Magazine contacted Service 1st Energy Solutions announcing that they had been nominated by a recent customer to receive the Wave of the Future award for family owned businesses in Las Vegas, which celebrates those who utilize technological advancements to truly excel in business.
This is an annual award ceremony, which took place on May 13th. While the company didn't win, they take great pride in being nominated. Service 1st Energy Solutions beat over 100 companies who were originally nominated and then made it to the top three finalists.
"We are very thankful for the nomination," said Tim Fromhart, President of Service 1st Energy Solutions. "We believe that our services can truly benefit our customers and technology gives us this ability."
After these accolades, it's no wonder that Service 1st Energy Solutions is moving forward this year with confidence in its services and products.
About Service 1st Energy Solutions
Service 1st Energy Solutions specializes in energy efficient packages including HVAC upgrades, weatherization options and solar power for both Las Vegas residences and commercial businesses. With over 25 years of experience serving southern Nevada, Service 1st Energy Solutions focuses on educating consumers about energy efficient solutions. Installations completed by Service 1st Energy Solutions include over 20,000 solar panels that are currently generating over 5 megawatts of solar power to the Las Vegas area.