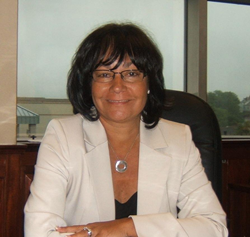 (PRWEB) May 23, 2014
Wheelchair Charities, Inc., the leading fundraiser for city and state hospitals in the United States, recently honored Family Services of Westchester (FSW) President and CEO Susan Wayne at its May fundraising gala in New York City. The annual event, hosted by Dale Allen, director of sports marketing, Nike/Jordan Brand, also celebrated Reggie Saunders, global brand marketing director, Jordan Brand, and William Gibane, III, senior vice president, Gilbane Building Company.
Past honorees have included Westchester philanthropist and Wheelchair Charities supporter Patricia Lanza, her husband Frank Lanza, and her family. Patricia Lanza, an Eastchester resident, was a dedicated advocate of FSW and most recently provided a $1 million challenge grant to support the Lanza Family Center for All Ages. FSW closed on the new property in White Plains in March, just prior to her unexpected passing at the age of 80.
Wayne graciously thanked Lanza for her nomination of FSW to be honored at this year's gala. "It is truly my humble honor to accept this distinguished award tonight. This recognition means so much to me, and to Family Services of Westchester," Wayne said. "We will stay connected and through our two charities will continue to do our work and make Pat proud."
Proceeds from the event enable Wheelchair Charities, Inc. to purchase needed items for patients and residents of the Coler-Goldwater Specialty Hospital and Henry J. Carter Specialty Hospital in New York City, including vans, buses, and state-of-the-art computer systems. Since its inception 37 years ago, Wheelchair Charities has raised over $20,000,000 with the help of an expanding family of sponsors, donors and volunteers. For more information, please visit http://www.wheelchaircharitiesinc.org.
About Family Services of Westchester:
Family Services of Westchester is a 60-year-old nonprofit that offers comprehensive social and mental health programs and initiatives to the county's nearly one million residents. With a keen focus on helping the 11 percent of Westchester individuals and families in poverty, FSW professionals and volunteers implement a wide range of campaigns to help those in need at all stages of life, from early education to employment assistance to elder care. FSW has a staff of 500 across seven offices in Westchester County and an annual budget of approximately $22 million.