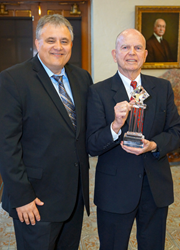 a gathering of people from around the country who care about ethical advocacy
GULFPORT, Fla. (PRWEB) May 22, 2014
Stetson University College of Law presented its Lifetime Achievement Award for Excellence in Teaching Advocacy to Professor Emeritus William Eleazer on May 21. The award was presented during Stetson's Educating Advocates: Teaching Advocacy Skills conference, May 20-22 on the Gulfport, Fla., campus.
Professor Eleazer helped to establish Stetson's reputation for excellence in ethical and effective trial advocacy. He challenged his students to maintain the highest standards of both professionalism and competency in the art of advocacy and the ethical practice of law. Professor Eleazer was inducted into Stetson Law's Hall of Fame in 2005.
Stetson's trial advocacy program has consistently ranked at or near the top nationally by U.S. News & World Report since 1995. Stetson has been named the best school in the U.S. for trial advocacy 16 times by U.S. News.
This year's three-day intensive Educating Advocates: Teaching Advocacy Skills conference, presenting the Stetson method for teaching advocacy, drew law professors and legal practitioners from across the U.S.
Retired Illinois district justice David A. Erickson, director of the Trial Advocacy Program and Program in Criminal Litigation at IIT Chicago-Kent College of Law, has attended more than a half-dozen EATS conferences. He described Stetson's annual EATS conference as a gathering of people from around the country who care about ethical advocacy.
###
About Stetson University College of Law
Stetson University College of Law, Florida's first law school, has prepared lawyers and leaders since 1900. Today, Stetson leads the nation in blending legal doctrine with practical training, evidenced by its top-ranked programs in advocacy and legal writing. Through our academically rigorous curriculum and commitment to social responsibility, Stetson lawyers are ethical advocates ready to succeed in the legal profession.