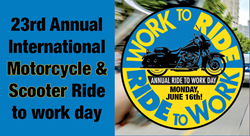 Columbus, OH (PRWEB) May 22, 2014
A.D. Farrow Co. Harley-Davidson is ramping up publicity for Ride to Work Day, which is scheduled to take place on Monday, June 16th. Former AMA board member and motorcycle enthusiast Andy Gofldfine first started this day. Andy states, "It makes your life richer and better to be on a motorcycle, and ride anywhere you would otherwise be driving." A.D. Farrow Co. Harley-Davidson is encouraging riders to take this quote into consideration when they are getting ready to leave home on the 16th.
This year marks the 23rd anniversary for Ride to Work Day. So how exactly has this day culminated into what it is today? Goldfine altered a popular saying, "Ride to Live, Live to Ride," into "Work to Ride, Ride to Work" for stitch work on clothes. This caught the attention of Motorcycle Consumer News, who in turn, compelled Andy to campaign for a National Ride to Work Day. Since, the Internet came along the word has spread and more and more motorcyclist are riding to work on this designated day.
The national Ride to Work Organization has shown that "across equal distances, commuting motorcyclists reach their destinations in less time than those using automobiles, and that motorcycles and scooters consume less resources per mile, and that they take up less space on roads." Riding a motorcycle to work seems to simply be more practical. Ride to Work Day exists to show unity among motorcyclist nationwide. A.D. Farrow Co. supports activities that bring motorcycle awareness to the forefront of the minds of drivers. On May 3, 2014 the company hosted the ABATE Rally. The escorted ride from their NorthStar location to the capital closed down highway 71 in an effort to remind central Ohio motorists that motorcyclists would be back on the roadway.
Ride to Work on June 16th!