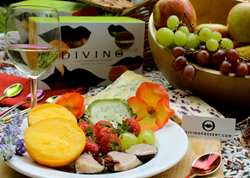 New York, NY (PRWEB) May 22, 2014
Long renowned as an Italian delicacy so rare it could only be found in the picturesque region of the Amalfi Coast, Divino is bringing a signature, decadent selection of its exceptional desserts to the east coast due to overwhelming demand. The delightful Italian dessert has proven so popular that the U.S. prelaunch saw the entire shipment of over 3,000 boxes sell out within less than three days.
Produced since 1928, and prepared on the same land as the original factory, Divino gained its name following a musing by President John F. Kennedy when he visited the area and met creator Angelo De Angelis. Ever since the Divino name was derived from the words of the famous JFK, the brand has not shied away from the upscale spotlight. The luxurious confection has been featured in celebrations for the Derby Day of the Royal Automobile Club in London, Italian President Giorgio Napolitano, British Lord Edwin Bramall, as well as in exclusive boat parties in St. Tropez, the Armani Café in Paris, upscale U.K. venues such as The Dorchester and Mandarin Oriental, tea-time at Claridge's, and the Dolce and Gabbana restaurant, Gold, in Milan.
Divino's innovative gelato desserts are a selection of award-winning sorbets and sweets made with the most perfect of Italian fruits. These mouthwatering delicacies are encased in their original fruit shells. The desserts are made with the finest Southern Italian fruits and are handpicked from the local groves surrounding the Amalfi Coast only when perfectly ripe. The fruits, bursting with goodness from the mineral rich soil, are then individually halved, the pulps blended and enhanced with local volcanic waters from neighboring Mount Etna and Vesuvius, before their skins are filled with the decadent gelato filling. After flash freezing, Divino is crafted, bursting with Italian heritage, flavor and goodness.
The Divino brand has won taste and innovation awards at European fairs such as TuttoFood in Milan in 2011 and 2013, Specialty & Fine Food Fair 2013 and BBC Good Food Show 2013 in London, and SIAL 2012 in Paris. The dessert even graced the taste-buds of Olympic athletes at the Nike VIP House for the duration of London's 2012 games.
Divino's Indulgenza single fruit collection boasts the divine array of Amalfi Lemon, Apulian Peach, Black Diamond Plum, Ciaculli Tangerine and Roman Kiwi desserts. The Celebrazione collection is perfectly suited for entertaining guests or impressing colleagues and includes one Ciaculli Tangerine, one Roman Kiwi, one Vesuvian Apricot and two Montella Chestnuts.
Divino has just finished their pilot project throughout NYC and will launch for the summer of 2014. Their collections will feature at the Fancy Food Show June 29th-July 1st in New York City.
######
For Press Information contact Caleb Ward at
E: caleb.ward(at)divinodessert(dot)com
T: 347 593 8874