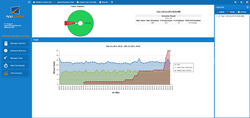 By testing all potential workstations during the same scenario, results better reflect a real-world usage environment.
Los Angeles, California (PRWEB) May 22, 2014
As with many industries, rollout of a new application or update can be a stressful and arduous time. Healthcare applications see significant hardships before go-live typically due to the complexity and the sheer size of the intended user base, among other issues. With these complications, testing the application prior to launch is vital. With important data and need for constant access, downtime and errors need to be minimized as much as possible.
In order to test the application properly, both load testing and stress testing must be implemented. These two types of testing identify limitations within the application pre-launch, allowing for necessary changes to be made. A quality assurance consulting firm, NRG Global, has had many healthcare clients successfully utilize their AppLoader software to maintain expected performance and success both pre and post launch. AppLoader utilizes an image-based front end solution that can be deployed on any Windows machine and used with any application. In addition, they offer a performance management tool, AppsWatch, for application monitoring.
A large concern during healthcare application testing lies with multiple protocol support and properly testing all variants. Numerous types of workstations create the potential for mistakes or oversights upon launch and its complexity increases testing duration. With AppLoader, all workstations and environments are treated as equals. In a potential testing phase of 400 users, any percentage or amount of said users can be thin, fat, Citrix, web, custom clients, etc. By testing all potential workstations during the same scenario, results better reflect a real-world usage environment.
Another challenge during healthcare testing is analysis of testing results. Often, logs must be sifted through to determine when failures or errors occurred. AppLoader can e-mail screenshots exactly when a failure is encountered. Testing teams can quickly inform the development team or superiors of the issue, leading to a faster solution and improved project communication overall.
Maintaining an efficient go-live schedule is vital to all healthcare application rollout, large or small. Whether working with an EMR, EHR, or practice management solution, AppLoader's image-based solution can effectively test any and all, regardless of workstation or protocol. Scenarios and workflow tests can be created and edited without the need of coding or scripts. To try AppLoader risk free, download here. To request a free proof of concept, simply click here.
About NRG Global:
NRG Global's motto is that you should test software the way you use it. Their software is built from the ground up to replicate exactly how the end user interacts with the application to give you the most accurate test possible.
Their unique approach to performance testing has helped companies around the world test critical business applications. Their clients include: Capgemini, JPMorgan Chase, Baylor Health Care System, UCLA, GAP, and NASA.
For more information about NRG Global, visit http://www.NRGglobal.com.
Contact Info:
Ted Petcu
NRG Global
+1.213.234.7550
tpetcu(at)nrgglobal(dot)com