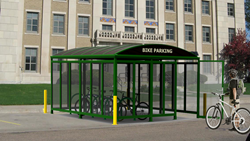 Customer Service Manager, Lisa Oates, says, 'These shelters solve the bike commuters' challenge of where to park their bikes and facility manager's challenge of where to install a shelter. It's a win-win for all. Especially the environment.'
Clifton, New Jersey (PRWEB) May 26, 2014
As the demand for commuter and student bike parking continues to increase, transit, facility, and property managers are scrambling to find space to accommodate the bikes. Thanks to innovations from Velodome Shelters, they have to look no further than their existing parking lots.
Velodome solved the problem of limited space by designing a line of anodized aluminum bike shelters that fit into typical parking spots with the minimum dimensions of 8' wide x 16' long. There are three standard models that vary in theft and weather protection, size, and amenities.
The most basic is the Newport which measures 7'-6" wide x 14'-6" long and is designed to fit into one parking stall. Even when sandwiched between two cars, bikes can be accessed from the ends. Up to 16 bikes can be covered depending on the bike rack style selected. With this kind of ratio, scarce parking spots are freed up for additional car parking.
For enhanced protection, their Peapod shelter is sheathed in shatter-proof glass with a locking door option and accommodates ten bikes in two parking spots. Security locks range from coded keys to keyless systems with complete access monitoring to track who is entering and when.
Both steel and flexible plastic traffic bollards are available to protect the shelter from autos.
The top of the line is the Guardian that can park twenty bikes within three parking stalls. For buildings with limited space, the Guardian also functions as a secure, outdoor bike room with a spacious interior and vented roof. Options include front and rear doors, access control systems, solar lighting, benches, secure bike pumps, repair stands, helmet lockers, and even a changing booth. With bike parking facilities like these, facility managers should no longer hear the complaint "Where can I park my bike?"
About Velodome Shelters
Velodome Shelters specializes in innovative bicycle parking shelters and bike racks that protect bikes from the elements and deter theft. In addition to their standard models, their creative team designs custom bike parking solutions for virtually any location.