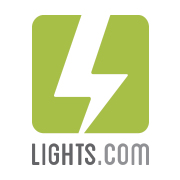 Brooklyn, NY (PRWEB) May 30, 2014
Almost a year old, lights.com is ready to celebrate their success and help customers kick the summer season off right with their new line of summer string lights, perfect for any outdoor summer party.
After a year of pursuing their mission of illuminating the lighting shopping experiences for their customers with the lighting industry's widest array of lighting; ranging from flameless candles and string lighting to chandeliers and floor lamps, Lights.com has gained even more insight into what it takes to offer great lighting collections at a great value. Their outdoor party string light collection is a perfect example of that.
Lights.com, founded by husband and wife team David and Sheva Knopfler, originated from a shared passion to create an unparalleled experience and unique catalog for the lighting enthusiast in everyone. Lights.com has quickly become the hub for a wide range of lighting styles. Offering an intuitive interface that leverages exclusive search features and an intense lighting collection, customers can easily shop from thousands of choices with the site's user-friendly design and navigation, with exclusive search tools including the String Lights Finder™, the Flameless Candle Finder™, and the Lighted Tree Finder™, taking the hassle out of shopping for lighting and allow customers to search for the customized lights they need.
"Our goal is to be more than just a place to buy a light fixture; we want to be part of the customer's lighting experience. As more customers embrace DIY, remodeling and refining their indoor and outdoor living spaces, our goal is to provide the perfect product and customer service to match," said CEO David Knopfler. With popular lighting options varying from vintage inspired fixtures and bulbs, designer lighting, seasonal outdoor string lights, and even remote-controlled flameless candles, Lights.com's success continues to transcend the growing team's expectations.
Lights.com is the perfect outdoor lighting source for the unofficial start of the summer party season. With a variety of cost effective solutions, after Memorial Day weekend, there isn't any more excuses for not having the perfect party, BBQ, or cozy summer evening outside. Brighten up any event with Lights.com's cool and easy string light systems.
About Lights.com
Lights.com's mission is to bring innovative, trendy, and inspiring lighting products directly to the consumer. By designing and producing their own lighting, they are constantly innovating and re-imagining lighting products specifically tailored for customers' desires and inspirations, making Lights.com the premier online destination for a wide array of quality lights and lighting products for every situation.
Customers can find the country's best lighting brands on Lights.com including Luminara, Candle Impressions, LampLust, Mathmos, Gerson & more.
Find them online at http://www.lights.com, on Facebook, Twitter, and Pinterest, or dial (866) 490-9358 9-8 EST, M-F. And check out the Lights.com blog for product information, decorating tips, and fun customer service stories.