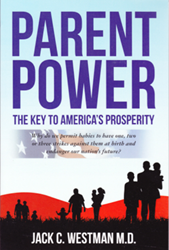 Parenthood is the Foundation of society
Madison, Wisconsin (PRWEB) May 27, 2014
In an era when schools and economic disadvantage are seen as the main reasons why one-third of the children in the United States are not thriving, Dr. Jack Westman calls attention to the power parents have to both prevent and to contribute to our social problems in his book "Parent Power: The Key to America's Prosperity." In her book "All Joy and No Fun: The Paradox of Modern Parenthood," Jennifer Senior points to the maddening self-doubt that accompanies the "murky" goal of raising happy, confident kids.
Dr. Westman underlines Jennifer Senior's observation that new parents are unhappy because they miss not only sleep but autonomy: "One day you are a paragon of self-determination, coming and going as you please; the next, you are a parent, laden with gear and unhooked from the rhythms of normal adult life." Senior emphasizes the strain on marriages, especially when very young children or teenagers are in the house.
Dr. Westman agrees with Senior's observations about "the rise of the useless child," contrasting a time when children worked to help support their families with today. Now childhood is "long and sheltered, devoted almost entirely to education and emotional growth." Over the same period, she writes, "Our lives as mothers and fathers have grown much more complex, and we still don't have a new set of scripts to guide us through them."
Dr. Westman adds that parenthood generally is not accorded a high value in the United States. Only 1 in 3 households in the United States have a child under the age of eighteen. Having a baby is a status symbol…caring for one is not. Unlike other Western nations, the United States does not recognize the economic value of parenthood. Many parents are diverted from childrearing to paid employment either by choice or by necessity in welfare-to-work programs. Childcare is regarded as a marketable educational function rather than a fulfilling developmental experience for adults and children. Consequently, childrearing is increasingly delegated to institutions, such as schools and childcare facilities.
"Parent Power: The Key to America' Prosperity" documents how, rather than being the primary activity of adults, parenthood often is relegated to second place by necessity and by choice. Because it is unpaid, parenthood doesn't have direct economic value while paying others to care for children does. Parents therefore seem to be more useful to society in the work force where productivity can be valued in monetary terms. Hiring non-parents to care for children also creates jobs that increase the GDP.
Most importantly, Dr. Westman explains why society doesn't recognize parenthood as a career. It doesn't formally acknowledge that childrearing is skilled, hands-on work in which parents and children bond and grow together. It automatically awards full parental rights to any genetic parent regardless of age or ability to be a parent until the child is damaged by the parent's neglect or abuse and parental rights are terminated by a court.
Dr. Westman concludes that the rewards of parenthood are easily obscured for contemporary parents who are not experiencing the satisfactions and pleasures of parenthood. Since work is defined in the United States as a paid activity, unpaid activities like childrearing are not regarded as work. This obscures the fact that childrearing actually has immense financial value for society. In the long run, parenthood is more important to society than paid vocations. Although not recognized as such, parenthood is the career that benefits everyone.