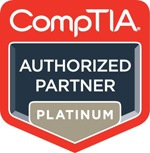 We are pleased that we are ready to offer the right training immediately upon the release of the mew CompTIA certification exam that will prepare students the test
New York City, NY (PRWEB) May 23, 2014
The new CompTIA Security+ exam has just been released and NetCom Learning, the experts in technology training solutions, is ready with the training to prepare students to successfully take the new certification exam. Prospective students can choose between the five day course available as Live Online or in a traditional classroom setting or take the four day 40 hour intensive boot camp at NetCom locations in Arlington, Virginia or in Las Vegas, Nevada. The Security+ boot camp training may also be taken Live Online The CompTIA Security+ course provides foundational information in IT security and is a good way to begin a career in information technology.
"We are pleased that we are ready to offer the right training immediately upon the release of the mew CompTIA certification exam that will prepare students the test," said Russell Sarder, CEO of NetCom Learning.
"We pride ourselves on providing hot off the presses IT certification training that complies with any new release in a certification," said Sarder.
Security + is a computer security certification offered by CompTIA and is one of the most popular IT certifications in the ever growing field of field of computer security, covering disaster recovery, network security, compliance and identity management. According to CompTIA, more than 45,000 people have earned the Security+ certification. Anticipated changes to the exam SY0-401 include a focus on risks such as risks to systems integration with third parties, an expansion of common protocols, mobile security and BYOD, risk mitigation, and scenario based authentication and access control. Individuals who take the current Security+ training and pass the SY0-301 version of the CompTIA exam are still Security+ certified even when the new exam is released.
The new certification exam has a maximum of 90 questions and includes both multiple choice and performance based questions. A passing score is 750. CompTIA recommends that those taking the exam have a minimum of two years experience in IT administration with some familiarity with IT security, however no prerequisite is required.
To sign up for Security+ training from NetCom Learning go to http://www.netcomlearning.com/products/137/CompTIA-Security+-training.html.
Benefits of Certification
The benefits of earning IT certifications are many. Holding one of the most popular professional certifications in the hottest areas of information technology gives the certification holder a major advantage when it comes to employment. Currently there is a skills gap in the information technology field, and holders of major IT certifications are being sought out for hiring. In a recent survey of IT professionals, sixty percent stated that getting an IT certification led to a new job. Organizations also benefit from having their employees certified with current certifications. Certified employees means employees with the right skills to do the job and it can also increase sales by being able to prove to prospective clients that the organization has the skills to supports its claims.
Benefits of Taking CompTIA Certification Training with NetCom Learning
NetCom Learning is the most trusted name in both business and IT training and offers top notch instructors with an average of 16 years of experience and vendor approved coursework offering certification preparation for a variety of vendor certifications. NetCom Learning is a Platinum Partner of CompTIA and is an authorized Prometric and VUE testing center. NetCom Learning offers only approved CompTIA curriculum provided by experienced instructors. NetCom Learning instructors routinely achieve high ratings from their students and possess an average of 16 years of experience and a cumulative average of more than 10,500 years' experience in the field of their expertise. Instructors carry an average instructor evaluation of 8.6 out of 9, one of the highest instructor evaluations in the industry. The high quality of training has resulted in over 1,700 testimonials and a 96% customer satisfaction rate with those customers indicating they would recommend NetCom Learning to others.
For more information of Security+ training or other CompTIA coursework go to http://www.netcomlearning.com/products/137/CompTIA-Security+-training.html.
About NetCom Learning
NetCom Learning is an innovative leader in IT, business and executive training to companies, individuals, and government agencies. Since its inception in 1998, NetCom Learning has trained over 80 percent of the Fortune 100, serviced over 45,500 business customers, and advanced the skills of more than 71,000 professionals through hands-on, expert-led training, with the organization maintaining an average instructor evaluation score of 8.6 out of 9. NetCom Learning was recognized by Microsoft Corporation as its Worldwide Training Partner of the Year and named thrice to Inc. Magazine's list of fastest growing private companies in America. The organization was also recently named to the 2012 Top 20 IT Training Companies by TrainingIndustry.com and was named "Company of the Year" by the American Business Awards.
The purpose of NetCom Learning is to promote the values of lifelong learning.