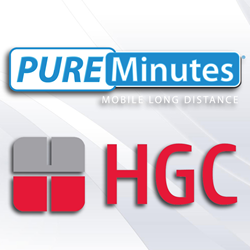 Pure Minutes primary focus is on providing quality connections for our customers.
New York, NY (PRWEB) May 23, 2014
Pure Minutes and Hong Kong-based Hutchison Global Communications Limited announced they have entered into a traffic exchange agreement. The agreement, commonly known as a bilateral deal agreement in the telecom industry, allows two telecom service providers to create direct interconnections which enable customers to send and receive phone calls on reciprocal networks more efficiently and cost-effectively.
As the telecom industry continues to grow and evolve, telecommunications service providers exchange traffic in a scalable and reliable manner. The agreement creates high quality direct connections with in-country providers and PTT's to give Pure Minutes a competitive advantage in this growing market. The model ensures a balanced cost burden across each network. "Pure Minutes primary focus is on providing quality connections for our customers," said Marat Grinberg, Managing Director at Pure Minutes.
Pure Minutes looks forward to working with our partners to drive unity and create new quality routes to ensure a fair and equitable interconnection. The agreement will also contain provisions to add capacity and add interconnections to stay ahead of growing traffic demand.
The venture will allow Pure Minutes to deliver its signature affordable international rates through one of the largest telecommunications leaders in Hong Kong. The agreement with Hutchison Global Communications represents an ongoing commitment by Pure Minutes to building long-term relationships with our customers.
Marat Grinberg shares, "We are excited to be given the chance to work with one of the world's premier telecommunication organizations. We see the alliance as an important piece to deliver quality calling routes to our shared customer base.
Pure Minutes (link) provides a low-cost international calling solution that works with any phone number, regardless of the current provider. This means that a user can enjoy the benefits of low international rates without needing to change their current land-line or mobile cell phone service provider.
The revolutionary Pure Minutes system instantly recognizes subscribers through an automatic caller identification which eliminates the need for complicated PIN numbers typically found on calling cards. In fact, Pure Minutes has eliminated the need for calling cards altogether. Topping up the minutes has never been easier using any of the convenient recharge locations around the world or online with any major credit card, cash, or a PayPal account.
About Hutchison Global Communications Limited
Hutchison Global Communications Limited owns one of the largest fibre-to-the-building telecommunications networks in Hong Kong. Since establishment in 1995, it has been fully committed to building its own optical-fibre network infrastructure and introducing advanced facilities. Coupled with its four cross-border routes integrated with all three of mainland China's tier-one telecommunications operators and world-class international network, HGC provides a comprehensive range of fixed-line telecommunications services locally and overseas. HGC is a subsidiary of Hutchison Telecommunications Hong Kong Holdings Limited. HTHKH is a leading integrated telecommunications service operator, offering mobile and fixed-line services to local and international customers.
For more information on HGC, please visit http://www.hgc.com.hk. For more information on HTHKH, please visit http://www.hthkh.com.
About PureMinutes
Pure Minutes is a leading provider of prepaid international long-distance calling solutions. We provide an affordable communication solution that offers flexibility, portability and ease-of-use for both landline and mobile users. PURE Minutes offers competitive international calling worldwide with no hidden fees, no maintenance fees, no contract required, and minutes that never expire. PURE Minutes service is sold on the web and through regional and national retailers including WorldCom and is available to customers worldwide.
Follow us on Twitter (@PUREMinutes), Facebook (facebook.com/PUREMinutes), and LinkedIn (PUREMinutes, LLC) for up to the minute updates.