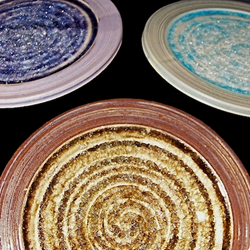 All of our choices here reflect our values, and the team at Paloma Pottery would like to offer a token of honor for those who have given so much.
Ferndale, WA (PRWEB) May 22, 2014
While shoppers are enjoying the handmade delights of an online eco-friendly gift shop, Paloma Pottery would like to offer a small gesture of remembrance. The eagle shaped magnet is a lovely piece, which speaks to the grandeur of this beautiful country. Customers can simply mention Memorial Day in their order, and receive a free eagle magnet gift with their purchase.
As people head outdoors to enjoy the glory of spring and all growing things, Paloma Pottery is looking for ways to give extra care to the earth. The new garden stones are made out of recycled glass pottery to enhance any outdoor living space. These dazzling pieces are upscale works of art, while still remaining fully durable and functional. The depth of color reflects the sun's light in a magnificent spiral. The range of colors will surprise and delight: purples, pale blue, earth tones, rich reds and sunset golds. There is something perfect for every personality.
A set of stepping stones instantly brings character and life to the garden. Any gardener or homeowner will cherish the statement of alighting their path with these robust gems. They make an ideal gift or home improvement accent. Of course, every purchase at Paloma Pottery comes with the satisfaction of sustainable business practices and an outstanding history of customer service.
Paloma Pottery was founded with a mission to care for the earth and those living on it. By turning an environmental problem such as litter and waste into a solution for beauty, Paloma Pottery has been honoring the earth for over 14 years. By employing the other-abled, and choosing all recycled and sustainable packaging, this company walks its talk every step of the way.
"Memorial Day compels us to pause and remember another force that has sustained us: our veterans. When it comes to loss and the passing of time, sometimes words cannot give due recognition. The team at Paloma Pottery understands that all of our stories are unique and every gift has its own meaning," said founder, Nicole Whitney.
"As an understated gesture of acknowledgement for what a veteran or his/her family has endured, this free gift is a small way to give honor to the stories that have shaped our land and those living on it. All of our choices here reflect our values, and the team at Paloma Pottery would like to offer a token of honor for those who have given so much."
About Paloma Pottery:
Paloma Pottery has been online for 14 years now, and the mark of endurance shines through its work. Continually improving and expanding her line, Founder Nicole Whitney has grown Paloma Pottery into a thriving artisan presence. For those who are seeking exceptional quality gifts with a unique, eco-friendly design as well as solid business ethics, Paloma Pottery is the place. For more information, please visit http://www.palomapottery.com or call 877-669-0783.